Rhythm Mobile for the iPad was just released a few weeks ago. We just made business execution mobile for our customers. I am thrilled for a number of reasons.
As an Apple fan, I am still pinching myself that we finally have Rhythm for the iPad. I actually use my iPad more than my Mac these days.

I am thrilled because a number of clients have shared with me that they are enjoying Rhythm on their iPad as they are mobile.

I have learned that Mobile does not necessarily mean travel! Mobile could be in and around the office, a working lunch, a meeting, etc.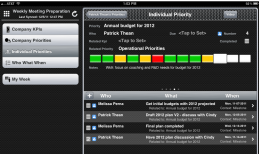 Here are some comments from our Rhythm clients:
I love it as I review action items on the iPad when I walk into a team members office.
It is actually easier to use the iPad app. For a first release, you have hit SuperGreen in my book. Congrats!
Easier to get to my KPI Dashboards with Rhythm Mobile
Rhythm Mobile is available through the Apple App Store at no cost to our customers. As it's part of the Rhythm Coaching Program that provides strategic coaching systematized with Rhythm, it will work only as a complement to the Rhythm Coaching Program.