I wanted to pause for a bit and thank our friends and customers for helping to launch my new book, Rhythm - How to Achieve Breakthrough Execution and Accelerate Growth. In the short time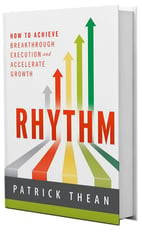 that the book's been out (3 weeks), it has received 24 reviews at Amazon. Even the most critical review (3 stars) started out with "Great book,…" Rhythm also achieved a ranking of 32 in the Kindle store! Thank you also for the personal emails that I have received, encouraging me and sharing how you have enjoyed the book.
Thanks again. I look forward to continuing our journey together. We will also be using #RhythmBook to share quick learnings on Twitter. Please do share your learnings as well and use #RhythmBook.
Thank you… and Find your Rhythm!
-patrick.