Do you ever get frustrated in planning sessions when you are trying to generate ideas, yet get stuck in the details of why certain ideas won't work? Is it hard to have a discussion to generate great ideas even though you have a great team in the room?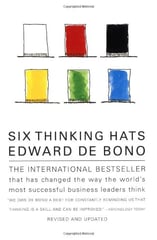 We just finished our own quarterly planning session for Q2. We had a blast with very strong discussions leading to a plan that our whole team believes in for Q2. We cannot wait to get started! The best part is that we are able to do this every single time. It's not a fluke that our sessions yield great outcomes. How do we achieve this? We use a simple process.
The guide below shows how we facilitate our sessions to get great results. Before you spend your time in discussion and brainstorming, be very clear on your objective for the session. A muddled objective will yield you muddled ideas and even less exciting outcomes. We adapted Edward De Bono's Six Thinking Hats. Check out his book in Amazon if you like this idea and want to learn more.