We had many exciting moments on the first day of our Breakthrough Conference yesterday. And, I was so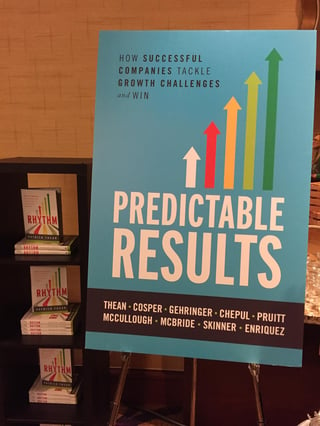 happy to end it with a story from one of our clients, Dr. Vogt, CEO of BioPlus, and a sneak peek at our new book coming out spring 2016, Predictable Results: How Successful Companies Tackle Growth Challenges and Win. This is a really special project for me because I have the opportunity to showcase our consultants and the work they do with our amazing clients, like Dr. V.
For this book, we researched common business problems that many mid-market companies face, and we realized that we had successfully helped many of our clients overcome these same challenges over the years. Over the last several months, each of our consultants has been working closely with one or two of their clients to tell the story of those challenges they faced, what they did to address them, the results they achieved, and insights and tools to help any company successfully tackle the same challenge.
I can't wait to share the book with all of you next year, and I am excited for this book to help leaders learn how to breakthrough difficulties, seize opportunities, and achieve their goals and dreams. There are lots of business case study books out there about how big companies like Google or Starbucks or Facebook tackle challenges, but this book is special - it is a behind the scenes look at how real companies just like yours and real leaders just like you have broken through the growth ceilings that all companies inevitably face.
In the meantime, we've put together some chapter sneak peeks to whet your appetite. Preorder your copy of the book to get access to this exclusive preview content.