Get instant answers to your strategy execution questions
Note: This capability is available for beta testing. Please reach out to help@rhythmsystems.com for more information.
Why Use Ask Patrick
Our Rhythm AI Coach is like having our founder and CEO, Patrick Thean, in your pocket! You can ask all your burning questions about Rhythm, your strategy, your goals, your meetings, your stucks... and get an answer right away. No more leaving Rhythm to ask Google or type an email and wait for an answer.
Not sure where to start? Here are some things you can ask:
What are examples of goals for [your job] to track?
My KPI has been Red 3 weeks in a row. What should I do?
This is my BHAG... How can I improve it?
I want to double my revenue. What should I do first?
I'm not sure what to measure for Marketing KPIs. What are some examples?
The sky is the limit! Ask Patrick will keep you on track if you get distracted chatting about non-work related questions. You can ask as many questions as you want.
How Ask Patrick Works
We partnered with OpenAI to build this feature. Based on their underlying technology, we customized our chat experience and prompted our coach with our methodology, books, and blogs so it can respond based on our decades of experience and patterns.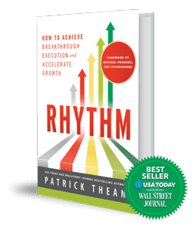 Ask Patrick will remember up to 10 of your previous messages back and forth to provide context for your conversation.
If you'd like to delete the message history, you can do so by clicking the Settings gear and choosing "Delete Message History"

By using this feature, you acknowledge and agree to OpenAI's Usage Policies. If your company does not want this feature, please email us to Opt Out.