About Us
Working Together. Working for You.
We help the middle market get more growth initiatives done successfully.
In 2006, Rhythm Systems launched to help growing companies achieve their dreams and goals.
As you grow, things get complex quickly. With multiple layers and lots of opportunities to grow, it gets increasingly difficult to get company initiatives done, such as acquisitions, opening new markets, launching new products, and scaling operations.
On top of driving your initiatives, you have to develop accountable leaders and teams at the same time. This is really hard.
It is common to bite off more than you can chew and nothing actually gets finished. Teams work in silos causing duplication of effort and rework. Time is wasted cleaning up.
Today, Rhythm Systems has helped high growth mid-market firms create over 10,000 plans and execute over 750,000 priorities successfully.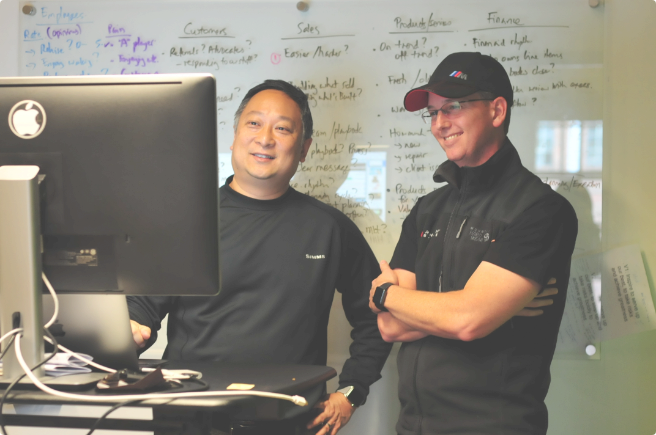 Rhythm clients are top in their industry.
Rhythm is not for everyone. Only 3% of companies ever get bigger than $10 million. Our clients have hit this milestone and are investing to compete at the next level. In order to thrive and win, they are committed to applying new skills and systems to stay at the top of their industry.
What makes us different?
Predictable Results. Accountable Leaders.
The Rhythm System Helps You Do Both.
Company Awards & Milestones
Rhythm Systems is Founded

Company founded by two successful serial entrepreneurs, Patrick Thean and Cindy Praeger


Rhythm Software is Born

Rhythm Software - Version 2 Launched

Published Rhythm: How to Achieve Breakthrough Execution and Accelerate Growth

Rhythm Software - Version 3 Launched

Our First Breakthrough Conference

Earned Fast50 Award

Listed in the Inc. 5000

Won Charlotte Business Journal's Best Places to Work

Rhythm Software - Version 4 Launched

New Book Predictable Results: How Successful Companies Tackle Growth Challenges and Win Published and Achieved Amazon Best-Seller Status