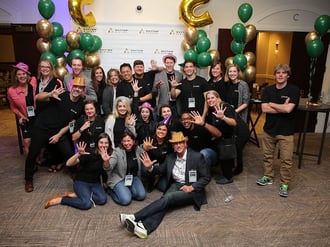 "It's like Christmas!" Our Head of Consulting, Chris Cosper, practically gushed as our team gathered on the day before our 5th annual Breakthrough Conference. She was right - we look forward to this event all year. It's our time to bring the whole "family" together - our clients, partners, friends and team. We also work hard to prepare a celebration packed with gifts of exceptional content, meaningful connections, and a memorable experience.
This year's sold-out Breakthrough Conference had many magic moments, and here are a few highlights I wanted to share:
You don't have to take my word that it was an amazing conference. Here's what a few of our attendees had to say about the Breakthrough Conference this year:
"I loved the Breakthrough Talks and hearing the leaders' stories!"
"John DiJulius' session really hit the nail on the head. ... Great stuff!"
"The food was fab!"
"Enjoyed the conference thoroughly! The Rhythm team did a spectacular job!"
"EY speaker (Closing) was amazing - bring her back in 2020"
"This is my first time at a Rhythm Conference and I'm blown away at the thoughtfulness and level of detail put into this event. Nicely done, folks. We will be back!"
"Love u guys – Had so much fun…. Cant wait for next year"
We love putting this event on every year because we love our Rhythm family, and we feel so lucky to have the best clients, partners and friends in the world. We don't want you to miss out on next year's event - mark your calendars now for October 15-16, 2020, in Charlotte, NC. We would be delighted to have you join us!
Photos courtesy of Christoper Coutinho Photography