This year's Breakthrough Conference features the new Breakthrough Talks speaker session. The conference will take place October 11-12 at the Charlotte Marriott Center City in Charlotte, NC.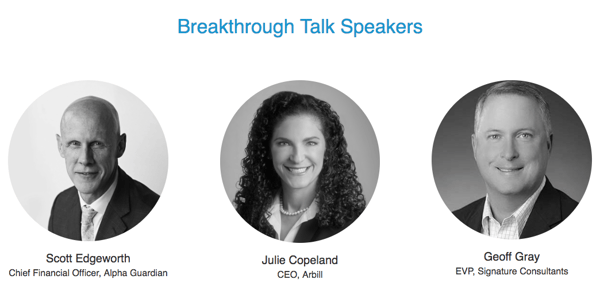 Charlotte, NC -- (SBWIRE) -- 08/01/2018 -- Rhythm Systems' Breakthrough Conference - the premier conference for mid-market growth companies - is introducing a TED talk-inspired Breakthrough Talks event that will be showcased on October 11th, 2018.

The inaugural Breakthrough Talks speakers include Scott Edgeworth, CFO of Alpha Guardian, Julie Copeland, CEO of Arbill, and Geoff Gray, Partner and EVP of Enterprise Accounts and Business Development at Signature Consultants.

Introducing the speakers on stage will be Chris Cosper, Rhythm Systems' Head of Consulting. Cosper says, "We're thrilled to introduce the Breakthrough Talks series with captivating stories and rich insights from within our own community of mid-market business leaders. One thing that makes our conference so special is the opportunity to connect with and learn from a diverse network of successful leaders, and we're very grateful for the willingness of these individuals to share their personal stories on the stage exclusively with our audience."

Edgeworth will speak to "How a Strong Culture Will Help You Scale More Successfully," emphasizing how the investment in people and culture directly affects the numbers—all told through the lens of his experiences with massive growth and competitor acquisition at Alpha Guardian.

Copeland will reveal the "3 Surprising Tools to Win and Survive the Tough Battles." She has successfully steered Arbill through massive business, industrial and personal upheavals that will inspire others to discover and utilize their own leadership survival weapons.

Gray will discuss his use of "Happiness as a Strategy to Drive 3X Industry Growth," which is exactly what he has done at Signature Consultants to become the 13th Largest IT Staffing Firm in the U.S.

Following the TED talk framework, each Breakthrough Talk will run roughly 18 minutes long, capping off Day 1 of the Breakthrough Conference sessions.

Co-Founder and Managing Partner at Rhythm Systems Cindy Praeger says, "We are honored to have an impeccable line-up of Breakthrough Talks speakers. Their exclusive stories are deeply relevant to today's business leaders and will bring applicable, real-world strategies to manage growth and win."


About Rhythm Systems
Rhythm Systems is the industry's only solution that combines complete, cloud-based business execution software along with expert consultants to help mid-market companies get more strategic growth initiatives done successfully. Founded in 2006, Rhythm Systems has helped clients develop over 3,000 plans and 250,000 growth priorities such as integrating acquisitions, launching new offices, scaling operations and maximizing new product introductions. Many of Rhythm's methodologies are based off CEO and Co-founder Patrick Thean's book, Rhythm: How to Achieve Breakthrough Execution and Accelerate Growth. Buy our book for only $0.99 on Amazon.

Also available on Amazon is Rhythm's latest best selling book Predictable Results: How Successful Companies Tackle Growth Challenges and Win. For more information, visit www.rhythmsystems.com or follow on Twitter @RhythmSystems.


The conference is currently seeking sponsors and media partners. To learn more about sponsorship and media packages, contact Christine Rutherford at christine@rhythmsystems.com.