Business Execution Software
The competitive advantage that forward-thinking, middle market CEOs use to execute their strategy.
Predictable Growth Results. Accountable People.
The Rhythm System helps you achieve both.

Drive Revenue Initiatives
Align your sales & marketing teams to achieve your growth goals.
Launch Products Faster
Coordinate the work efforts of every department.
Integrate Acquisitions Better
A unified Methodology and Software for your newly integrated enterprise.

Develop Accountable Teams
Provide Role and Goal clarity for all team members.
We've helped hundreds of companies over our 10 year history.
The Rhythm Software
Our patented Rhythm software drives better business performance through:
Improving your weekly meetings
Individual and team performance dashboards
Enterprise project & work collaboration
Connecting your Strategy to your Execution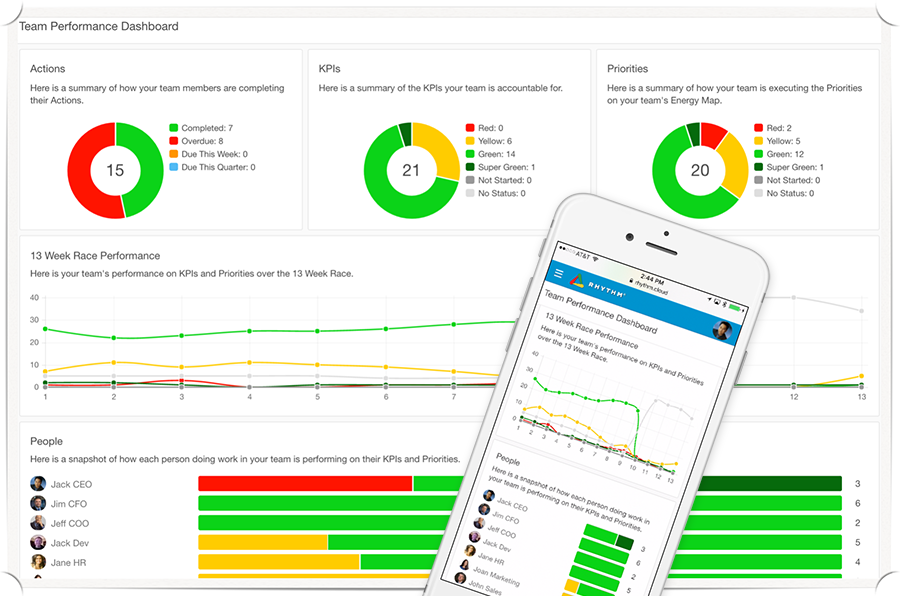 "If it wasn't for Rhythm, we would not have been able to hit our objectives with the same frequency or execution discipline to allow us to launch our product this quickly."
-Chris Tinsley - CTO, avidxchange
The Rhythm Middle Market Growth Playbook
A simple framework to create:
"Execution Ready" strategies
Annual/quarterly plans
Relevant KPIs and Job Scorecards
Accountable and focused teams that achieve breakthrough execution
"It's simple, it's effective, it is very visual, it just keeps you on track."
- Filipe Carreira - Senior Vice President, Voicebrook
The Rhythm Middle Market Experts
Your dedicated Rhythm Consultant will make the Rhythm System work for you quickly.
Rhythm experts have run mid-market companies or have executive experience so they are quick to understand your needs and bring immediate high value to your organization.
See what Rhythm can do for you.
Schedule a demo or find out more from our Senior Product Specialists.