Did you know that Charlotte was recently voted as one of the best cities for tech outside of California and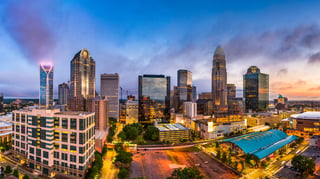 New York?
The Washington Post recently reported on our burgeoning tech scene; "the number of high-tech jobs in the city grew 33.2 percent from 2013 to 2015, up from 18.6 percent from 2012 to 2014, according to a survey by real estate company CBRE."
So, who is fueling all this tech growth in Charlotte?
1. John Stewart - MapAnything CEO
John Stewart and Ben Brantly founded MapAnything (previously Saber Business Solutions and Cloudbilt) in 2009 as a Salesforce Force.com partner. In 2015 they rebranded as MapAnything, and they haven't looked back since!
MapAnything is a geo-productivity application for Salesforce and ServiceNow.
2. Ric Elias - Red Ventures CEO
Red Ventures has expanded rapidly over the past few years, opening two campuses and driving job growth across Charlotte. Red Ventures was founded in 2000 by Ric Elias and Dan Feldstein. Ric Elias was a passenger on the famous flight 1549, "the miracle on the Hudson," and it completely changed his life and business.
Red Ventures is a technology driven marketing and advertising company headquartered in South Charlotte.

3. Michael Praeger - AvidXchange CEO
You can't live in Charlotte and not know about AvidXchange. They recently rebranded the music factory under the AvidXchange moniker. AvidXchange is one of the fastest growing Fintech companies in the US. They were recently valued at $1.4 billion after latest funding round including Mastercard, Temasek, and the Peter Thiel Fund.
And, Michael Praeger is a keynote speaker at Breakthrough2017!
Come to the conference to hear the behind the scenes success story of how AvidXchange used the Rhythm System as a secret weapon to:
Win Best Places to Work for eight years in a row
Integrate three new acquisitions in 2 years
Secure $225 M from Bain Capital (the largest investment made that year)
Launch new products in half the time and increase productivity by 300%
Photo Credit: iStock by Getty Images
Photo Credit: iStock by Getty Images