Congratulations to Jeff Berstein, and the ImageFIRST Team! Calera Capital, a private equity firm,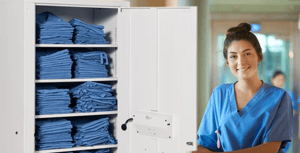 acquired a majority share of ImageFIRST, allowing Jeff and his team to successfully achieve their dreams. This unique win-win deal provides the following for key stakeholders:
Enables Jeff Berstein and his family to achieve their dreams with financial security for generations while preserving their legacy.
Presents a compelling second act for Jeff and his team that has them signed up to continue building a great company.
Provides Calera Capital a platform company complete with a strong management team with proven execution habits, processes, and systems to continue delivering predictable results.
A great company takes many years to build. You have heard the saying, "An overnight success takes 15 years to achieve." Jeff Berstein took over the business from his father, Jerry, many years ago. Jeff invited us to help him build a great company more than 12 years ago. When we first started, I asked Jeff what he wanted to achieve. He shared that he wanted to build a great company. He was highly motivated by Jim Collins' book, Good To Great. Jeff said "We have a very good company. I want your help to continuing building it into a great company." Jeff's story is captured in the last chapter of my book, Rhythm - How to Achieve Breakthroughs and Accelerate Growth. The chapter is titled "From Good Execution to Great Execution With Rhythm."
Over the last 12 years, The ImageFIRST team has used the Rhythm methodology and software as the company's operating system. They have systematically installed stronger habits, improved their performance by being accountable to specific KPIs (Key Performance Indicators), and used the Rhythm Software as their system to track, manage and execute their growth goals week over week, quarter over quarter, year over year. Jeff shared that their consistent process of focusing on a few critical things, writing goals that have clear success criteria (Red, Yellow, Green) and being accountable to achieving performance every week in a 13-week quarter helped them to achieve consistent and predictable results every year for the last fifteen years.
Recognizing associates for doing the right things right is part of their Rhythm Operating System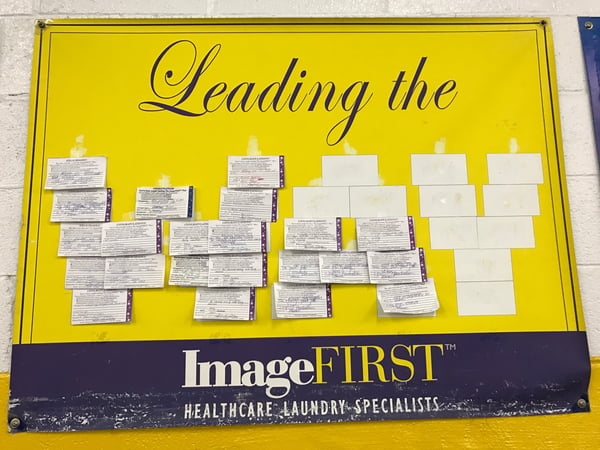 Track, measure and adjust the key things using Red Yellow Green metrics
In fact, When Calera Capital saw their past results, they said that it was the most consistent graph of results that they have ever seen! They had seen faster growth curves, but never anything as predictable as ImageFIRST's over such a long period of time. Their consistent and dependable results over the last 15 years demonstrate the following:
ImageFIRST has a well-disciplined management team with a high performing culture.
They focus on great execution. They use a business operating system and method that is proven, allowing them to continuously improve the company year over year.
This is a dependable machine that produces predictable results.
This is what great execution looks like, and this is how CEOs succeed. In 1999, Ram Charan and Geoffrey Colvin published a landmark article in Fortune Magazine titled "Why CEOs Fail: It's rarely for lack of smarts or vision. Most unsuccessful CEOs stumble because of one simple, fatal shortcoming." Their research showed that CEOs failed often because of poor execution, not flawed strategy.
Jeff and his team at ImageFIRST continue to demonstrate great execution. I used the word "demonstrate" because great execution can be seen in your actions and will show up in your bottom line results. With execution as their weapon, ImageFIRST continues their quest to build the most respected and largest supplier of textile rental programs to the healthcare provider market in North America. Great companies execute well and deliver predictable results. Congratulations to Jeff and his leadership team. ImageFIRST is a great company!
Did you enjoy this blog article? Here are some other blogs and resources you might like too!
How top CEOs Close the Strategy Execution Gap
5 Reasons Strategy Execution Fails
Don't Confuse Strategic Thinking and Execution Planning
10 Examples of Key Performance Indicators that Drive Sales
Key Performance Indicators for Employees
1 Thing You Can Do Today to Cultivate a High Performance Team
Learn more about the results other Rhythm clients are getting
Photo credit to ImageFIRST.
Photo Credit: iStock by Getty Images