Rhythm
How to Achieve Breakthrough Execution and Accelerate Growth
Rhythm®, by Patrick Thean, has been written for growing companies who are facing the ceilings of complexity. You'll learn how to identify the signs of setbacks before they occur, track those signs, and make adjustments to keep your plan on track and accelerate growth.
You'll also learn simple systems to empower everyone in your company to become and stay focused, aligned, and accountable.
The Think Plan Do® and Rhythm of Work® processes apply to any growing business and ensure that your organization gets into the habit of achieving success, week after week, quarter after quarter, year after year.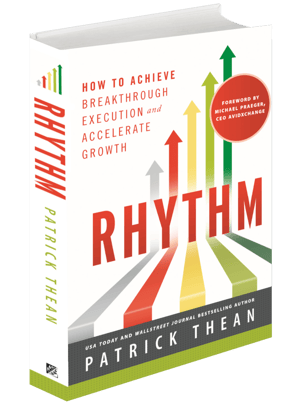 Predictable Results
How Successful Companies Tackle Growth Challenges and Win
Predictable Results, written by Patrick Thean, Chris Cosper, Alan Gehringer, Tiffany Chepul, Barry Pruitt, Cathy McCullough, Liz McBride, Ted Skinner, and Melissa Enriquez provides real advice from real leaders facing real challenges just like yours.
In this ensemble book, experts from the Rhythm Systems team share true stories of leaders tackling the big challenges that are keeping them from steady, predictable growth. These stories will give you practical patterns of success and direct you to tools and business guides that can show you how to build focus, alignment, and accountability.
You'll also learn the true winning formula for predictable results and the three key execution Rhythms for Growth to accelerate your growth as a leader and organization.