Find Your Rhythm
The power of people and process.
Predictable Growth Results. Accountable People.
The Rhythm System helps you achieve both.
Your Organization is Complex
Are you dealing with...
Product launches that are delayed?
Acquisitions taking longer to integrate than expected?
Remote employees that don't feel connected?
Teams that are operating in silos?
Lack of collaboration?
Missed numbers?
We Get It.
Are you a Mid-Market Company that needs better execution?
Rhythm provides a better way to get all your employees aligned and working toward long-term, annual, quarterly, weekly and daily goals.
Learn More About
"Using Rhythm, our R&D department increased productivity by 300% which resulted in launching our new product 6 months early."
-Chris Tinsley - CIO, AvidXchange
The Rhythm Software
Our patented Rhythm software is easy to use and gets results fast.
Solve problems faster at weekly meetings
Help managers know who needs help and why
Collaborate better on cross-functional projects
Drill down to see your strategy at work
Easily link to Salesforce.com or any web based system
Your team can be up and running at your next weekly meeting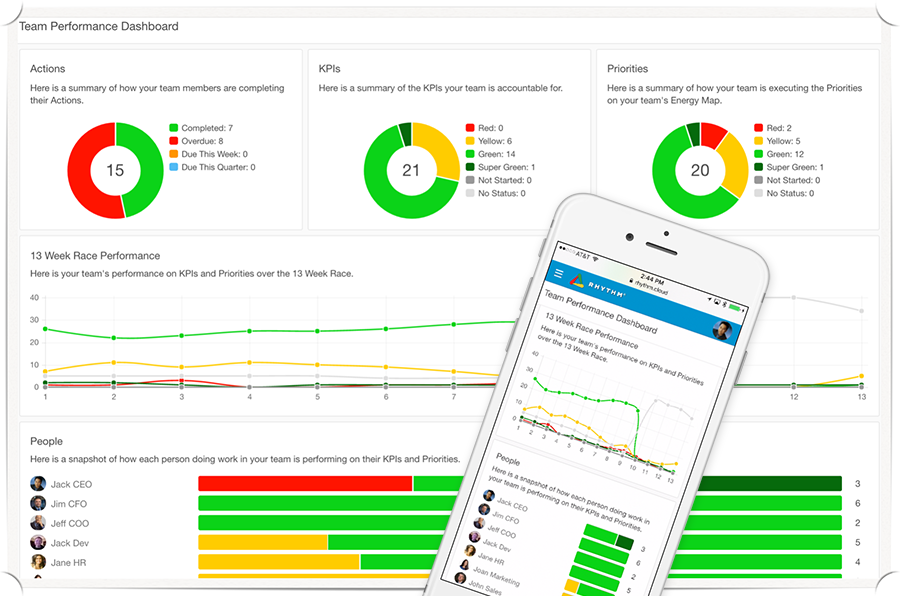 "Rhythm helped us improve the efficiency and effectiveness of our weekly meetings drastically. Our executive meetings have gone from 6 hours to 1.5 hours."
-Michelle Wink - President and CEO, UP Professional Solutions
Rhythm Experts Make Onboarding & Training Easy
Your dedicated Rhythm Consultant will make the Rhythm System work for you quickly.
Rhythm experts have run mid-market companies or have executive experience so they are quick to understand your needs and bring immediate high value to your organization.
"It's simple, it's effective, it is very visual, it just keeps you on track."
- Filipe Carreira - Senior Vice President, Voicebrook
The Rhythm Middle Market Growth Playbook
A simple framework to create:
"Execution Ready" strategies
Annual/Quarterly plans that succeed
Weekly adjustment meetings vs. boring status meeting
Team of accountable "A" players
Accountable and focused teams that achieve breakthrough execution
See What the Rhythm Software System Can Do For You
See what Rhythm can do for you.
Schedule a demo or find out more from our Senior Product Specialists.