I am so excited for this year's Breakthrough Conference! As a new team member and a perpetual volunteer,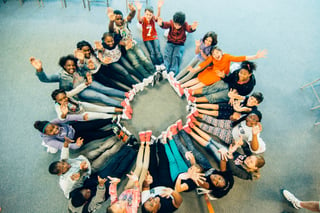 I am thrilled we are teaming up with Samaritan's Feet.
Samaritan's Feet donates shoes to underprivileged children in the developing world. It all started with Manny Ohonme. Manny's story began in Nigeria, where he won a free pair of shoes from a missionary. The gift propelled him to earn a full basketball scholarship to the US.
After he had started to gain success in the technology industry, Manny took a trip back to Nigeria. He had an epiphany about the effect the shoes had on him and what they could do for others.
When he returned to the US, he started Samaritan's Feet with his wife. "Now, over 5.5 million pairs of shoes have been distributed in over 70 nations and 300 U.S. cities."
Clearly, this is an amazing organization; but, there are a lot of great organizations out there. You may be wondering why we chose Samaritan's Feet as our charity partner for this year's Breakthrough Conference. Samaritan's Feet is close to our heart here at Rhythm Systems. Our CEO and Co-Founder, Patrick, worked with Manny at Metasys. Our employees, Ryan Walcott and Barry Pruitt, have volunteered and even gone on mission trips with Samaritan's Feet.
Our goal at Breakthrough2016 is to donate 250 pairs of shoes. We have a few different ways for you to get involved:
1. You can bring a pair of shoes to the Breakthrough Conference to donate. Samaritan's Feet is looking for new pairs of athletic shoes. To get more information about shoes, click here.
2. You can donate directly by clicking this link. A pair of shoes will be ordered and delivered directly to a child in need.
3. Our most exciting way to donate is our hoop shoot challenge during breaks and our happy hour at the conference. Every time someone scores 15 points or more in 30 seconds, Rhythm Systems will make a donation. You can even play multiple times!
We hope you are as inspired as we are about Samaritan's Feet! As the saying goes, you miss 100% of the shots you don't take.
Photo Credit: iStock by Getty Images