It's Annual Planning time for many companies throughout the world. In this time, many of you will be thinking of your strategies for business growth. Patrick Thean recently wrote an excellent blog Do You Have 2-3 Winning Moves on Your Rockefeller Habits One-Page Strategic Plan? helping you to determine 2-3 Winning Moves to grow your business revenues over the next 3-5 years and get you closer to accomplishing your BHAG. Please read that blog post before proceeding with this one. The purpose of this blog is to help you understand how to use Rhythm 2.0 to collaborate with your team in and out of planning sessions to determine the right Winning Moves for your business and then track your execution to accomplish them.
Our Rhythm 2.0 screens were carefully crafted to help your team collaborate to determine the right Winning Moves to grow your business and Key Thrusts to support that business growth over the next 3-5 years.
As Patrick writes in his blog, you need to brainstorm ideas with your team. With your team, brainstorm products and services that can help the company generate growth over the next 3 years. Record any current moves you are working on and your brainstorm of new ideas using the All Winning Moves Screen shown below.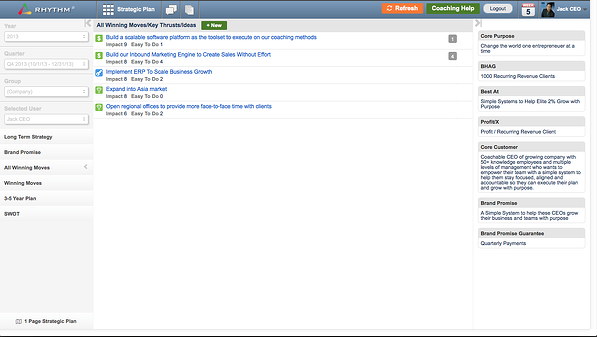 The goal here is to get the ideas out of your head and recorded in the software. Specifying the type of move is very helpful for your team. Items that you believe will generate revenue growth should be marked as Winning Moves. Items that will support that growth (I.e. ERP, Supply Chain, or other internal systems or process improvements) should be marked as Key Thrusts. Items that you need to think on more and are not ready to commit resources to should be marked "Idea Bench." We've also provided a type of move called "Plan B" specifically for items you are ready to execute on given your top priority items need to stop for any reason. "Plan B" items help you to keep your growth and momentum going even if a Winning Move or Key Thrust fails and has to be stopped.
Once you have the list recorded, work through some details of each item using the detail screen provided in Rhythm. This screen will help your team think about each strategic move. The screen will help you understand the specifics needed to make a decision on whether or not to implement the move. Who should own the move? What is the move's impact on revenue growth over the next 3-5 years? What growth projections do we predict? How difficult is it for us to implement? What further questions or assumptions should we document and test before we implement? Record your thinking on each of your moves in the screen shown below. Encourage your team to use the Comments ability on each strategic move to keep your brainstorming and dialog going even after your planning session. Winning moves take time, thinking, and good team dialog to ensure success.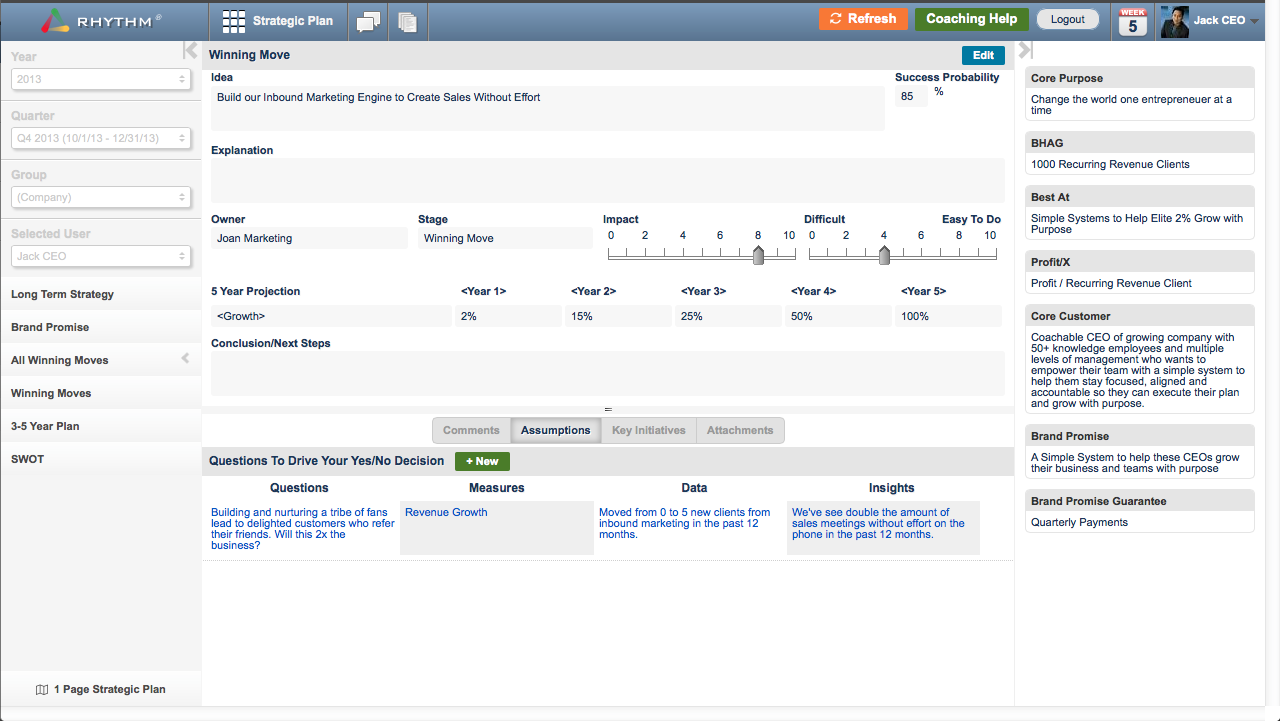 Once you've recorded your thinking for each of the moves, review them using Rhythm's 4 Quadrant Chart. The 4 Quadrant Chart will help you to visualize which moves are worth pursuing and which ones need further work. Moves with the most potential revenue growth that are also the easiest to do will be in the top right quadrant. Ideas that have strong potential impact yet take more resources or are less easy to do will be in the top left quadrant. Hold off on the items in the bottom left and right quadrants. These are likely losing moves that will distract your team and suck your resources with little return.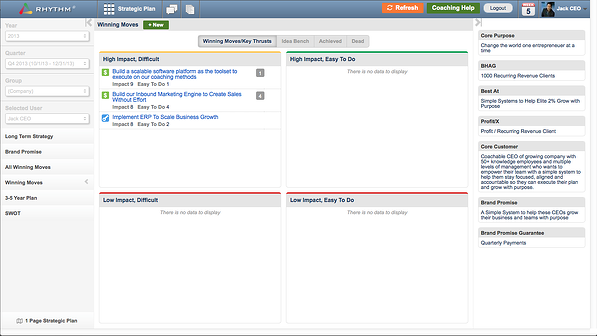 Rhythm 2.0 is a powerful tool to help you not only brainstorm and record your Winning Moves, but also track your annual and quarterly plans and execution to accomplish them year after year as shown on the screen below.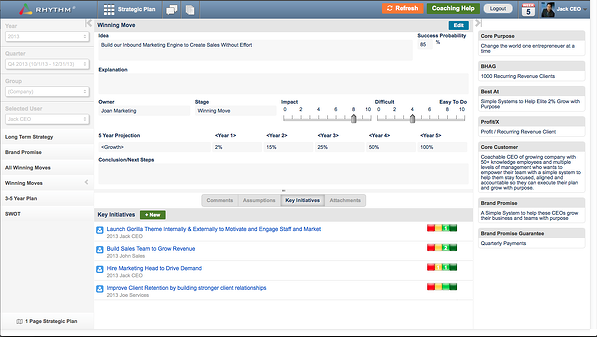 Notice at the bottom of the screen that you can see the Annual Key Initiatives the company is executing that are linked to achieving this Winning Move for the company. This is a powerful patented feature of Rhythm that enables you to see with just a click how well the whole company is executing to achieve your strategy. Knowing how you are executing enables your team to learn from your successes and make the right adjustments when plans go to Red status.
If you are using the Rockefeller Habits, the Winning Moves and Key Thrusts you record here in Rhythm will print on your One-Page Strategic Plan as your 3-5 year plan in column 3.
Make time to work on your Winning Moves and Key Thrusts with your team. You will never grow your business by cutting costs, so it is vital to identify Winning Moves for growth. Use Rhythm 2.0 to start a rhythm of thinking on your strategy together as a team. Then, track your execution against that strategy by linking your Rhythm dashboards to it. I'll discuss how to do that in a future blog post. The results will amaze you!
Helping you grow,
Ryan