Your Brand Promise is the commitment to your customers that really matters to them and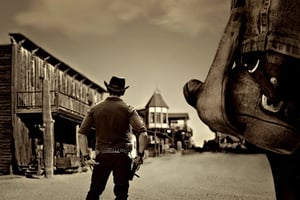 differentiates you from your competition. It is one of the most important building blocks help you win more of the right customers by helping you focus on how you sell your product/service to your Core Customer.

What makes a Brand Promise "good" is not only its appeal to your Core Customer and its ability to help you close sales with them, but also your ability to consistently deliver on that promise. It will let all of your customers know what to expect from your company. You'll find that most of the brand promise examples listed below you are already familiar with as they clearly define the what the brand promises the customer and is used heavily in their marketing as it completely aligns with their brand.
An effective brand promise helps build a strong brand, exemplifies your brand experience and has emotional connections with the core customer. It is more than a value statement, such as delivering high quality products. Just about every successful brand has a good brand promise that has helped draw their core customer to the door, but as you'll see in the bad section below, you need to have a customer experience that aligns with your brand loyalty. We offer a great free tool to help you create a brand promise and drive your brand strategy for both customers and employees, and it shouldn't stray too far from your mission statement. It is one of the most important aspects of building a brand in today's business environment as a great brand promise is what sets you apart from the competition with its ability to inspire optimism and uplift you team members to deliver on the brand promise.
Here are a few of the best Brand Promise examples:
What Makes a "Bad" Brand Promise?
A "bad" brand promise might be one that just does not capture what your customer wants and therefore doesn't attract new business. In his Forbes article, Steve Olenski talks about a New York Sushi restaurant who came out with a brand promise that they would no longer take tips. However, part of what guarantees great service in the food and beverage industry is the customer's decision to leave a tip or not, and how much the tip should be. Further, tips are a way for the restaurant industry to conduct performance appraisals on servers. Rather than draw in more customers who are happy not to have to think about the tip, this promise could backfire by removing the mechanism by which great service is delivered and rewarded.

An "ugly" one sounds too good to be true, because it is. A brand promise is meant to be delivered every single time you interact with a customer.
Brand Promise Examples that Turned out "Ugly":
News Corp - "legally investigate and report news" (We all know what happened here; the phone hacking scandal was legendary.)
AT&T - "deliver the extraordinary experience our customers deserve" (AT&T is taking heat for promising "unlimited data" and then delivering internet speed slower than the days of dial up. This is not delivering consistently on their promise!)
Set your team up for success on delivering your promise before you put it out there on your website and in your marketing efforts. Being able to deliver on your brand promise consistently is the key. Otherwise, your promise could turn ugly! You want a statement that is going to create customer loyalty and inspiring people to love your brand because you deliver on the promise each and every time!
Feel free to grab a free chapter from our bestselling book below that will tell you how a well executed brand promise can help you win and keep new customers.
Looking for more resources on Brand Promises or Brand Promise Examples? Check out these related posts:
Brand Promise - How to Build a Great One
4 Questions to Test Your Brand Promise
Define Your Core Customer to Develop a Winning Brand Promise (Video)
Brand Promise Guarantee and Differences between BMW, Hyundai and Toyota
3 Steps to Identify Your Core Customer
Photo Credit: iStock by Getty Images
Editor's Note: This post was originally published on Nov. 25, 2014, and has been updated.
Photo Credit: iStock by Getty Images