Mon, May 1, 2023 @ 08:40 AM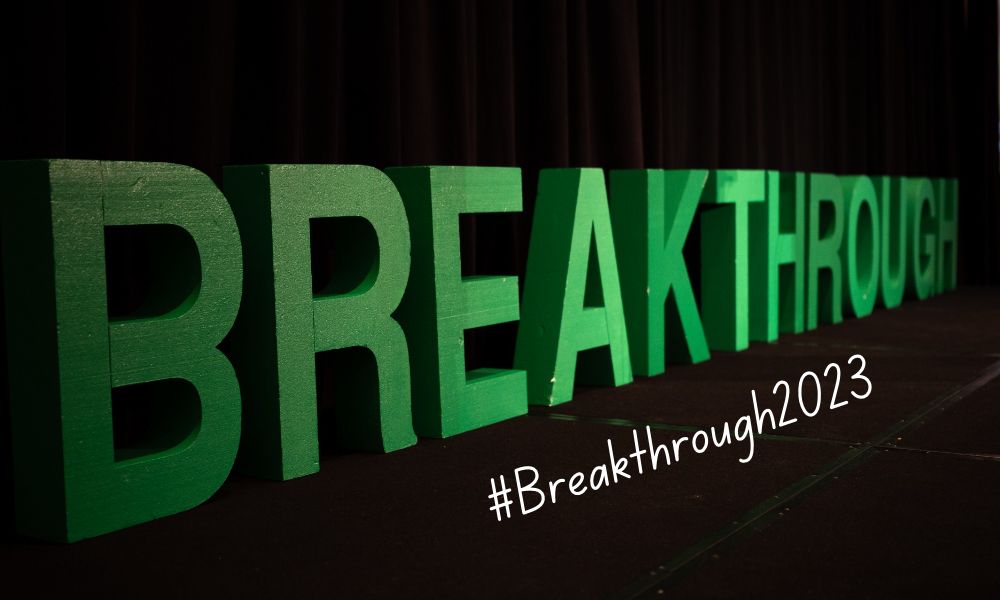 We just wrapped up an energizing two days with our Rhythm community here in Charlotte for our 7th Annual Rhythm Systems Breakthrough Conference. This event is so special, not just for the content, first-class accommodations, and fun, but most importantly, for the opportunity to meet and learn from our clients, friends, and partners who attend. Our team looks forward to it all year!
What Did You Love About Breakthrough 2023?
"Loved loved loved the team building activity at the beginning and that the tables were mixed with folks we didn't know. Enjoyed the messages."
Moving Forward Together: Align Your Teams to Conquer What's Next
This year was all about Moving Forward Together: Aligning Your Teams to Conquer What's Next. We wanted to grapple with the disruption happening around us in an honest yet hopeful way and provide practical tools for our attendees to leverage to weather future challenges or maximize opportunities while keeping teams cohesive, aligned, and engaged.
What Did You Think About Breakthrough 2023?
"Excellent presentations and breakouts. Provided a lot of ideas and things to improve our business."
Here are some highlights from our keynote speakers:
John DiJulius
The world's leading customer experience guru, John DiJulius, brought us to tears with his "Day in the Life of the Customer" video, made even the most serious CEOs in the room laugh out loud with his all-too-real stories of the customer service recession which has plagued us all for years, and got everyone in the room thinking hard about how to be the brand our customers (and employees) cannot live without and wouldn't consider leaving for a cheaper competitor


What Did You Love About Breakthrough 2023?
"The keynotes (especially DiJulius), the food & drink was delicious, the amazing Rhythm team members, the crazy success stories from companies like BioPlus and AvidXchange."
Manny Ohonme
Manny Ohnome inspired us with the story of Samaritan's Feet's incredible climb to reach their BHAG. Our ongoing partnership with Samaritan's Feet led to a donation of roughly 852 pairs of shoes for children in need, along with several messages of hope and encouragement. If you're reading this and wishing you'd had the opportunity to contribute, it's not too late to donate here.
What Did You Love About Breakthrough 2023?
"Everything!!! Love all the great advice and hearing other's experiences."
Dr. Roxie Mooney
Dr. Roxie Mooney shared the unbelievable story of BioPlus's journey from a small independent company to the best specialty pharmaceutical company in the world (according to McKinsey)! We were all left in awe of how Dr. Vogt and his amazing team grew by 968% over just a decade and empowered to go and chase our own big, hairy audacious goals!
What Did You Love About Breakthrough 2023?
"Content and connections have been extremely helpful and relevant to taking us to the next level."
Jonathan Walters
Our very own Jonathan Walters connected Patrick Lencioni's famous 5 Dysfunctions of a Team with our 5 C's of a High Performance to give us a practical and proven model for leading our teams past the common problems most of us face as leaders. He inspired us to make our "to-be list greater than our to-do list" and exude calm confidence to carry our teams through.
What Did You Love About Breakthrough 2023?
"The stories everyone has shared. The knowledge. The helpfulness. Feeling like part of the team."
Patrick Thean and Michael Praeger
Rhythm Systems CEO Patrick Thean teased us with a preview of his upcoming book with AvidXchange CEO Michael Praeger. If their onstage banter and vulnerable discussion of what it really takes to grow your business successfully is any indication, you will not want to miss this book!


What Did You Love About Breakthrough 2023?
"Great speakers and networking opportunities. Stellar support from the Rhythm team!"
Patrick Thean
Patrick also closed the event with a heart-filled and data-driven look at creating a work culture your team loves without sacrificing high performance and strong results. With the right mindset, habits, and systems in place, having both is possible.
Rhythm Clients Achieving Breakthroughs!
Our Rhythm clients shared other insightful breakthroughs from the main stage. Dan Mastropolo shared invaluable insights from his wildly successful start-up experiences for leveraging strategic partnerships to generate recurring revenue. Pedro Cons shared an inspirational story of leadership and transformation in the healthcare industry for underserved markets.
Head of Product, Ryan Walcott
Head of Product, Ryan Walcott, showed off some of our engineering team's amazing work, including our enhanced integration capabilities and the first-of-its-kind Rhythm AI Coach to help write better goals.
Client Awards
We had our first-ever Rhythm client awards at this year's event, and it was a pleasure and privilege to recognize David Mellon from Grundéns as the Dr. V Rhythm CEO of the Year and BioPlus as the Rhythm Company of the Year.
And that's just what happened on the main stage! Our breakout sessions, networking lunches and happy hours, and time to connect with and learn from each other were even more meaningful for us and our guests.
Coming Soon!
Breakthrough Conference
Session Recaps
All throughout May, we will be sharing articles recapping the sessions from Breakthrough 2023. Subscribe to the blog and stay in the know!