These days, with all the many choices we have as consumers, customer satisfaction is table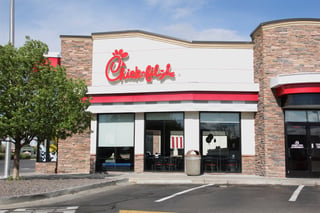 stakes. If you don't satisfy your customer's basic need (why they buy your product or service), then they'll probably just take their business elsewhere. Instead of striving for customer satisfaction, strive for customer delight. In a recent blog post, HubSpot's Mark Kilens points out that customer delight can be a competitive advantage. It is a one of Chick-Fil-A competitive advantages, every time you visit their restaurant you know you will receive outstanding customer service. How can you delight your customers, not just occasionally but with every single interaction? From your website to your front line employees and everything in between, it's worth considering your strategy for customer delight.
Just ask Chick-Fil-A, who's staying ahead of KFC as the top chicken chain in the United States. They've made several moves over the last few years to spark significant growth, including strategies to better delight their customers. Delighting your customers is all about building trust; you have to build relationships with your customers and understand who they are and what their dreams and goals are in order to delight them. Even though they are a fast food chain, they do their best to give every guest a great experience and are a positive influence in the community.
For example, understanding that parents of young children are among their key customer personas, Chick-Fil-A has started offering a delightful new service called "Mom's Valet." Knowing that parents of young children want to have a convenient and affordable meal with their families, Chick-Fil-A has innovated the experience so that parents can actually enjoy eating out more. With this new service, parents can order food at the drive thru while the kids are still contained in their carseats, and then come inside to a table that has been prepared with the right number of highchairs. The staff will then serve the food when it's ready. Not having to wrangle young kids while waiting in line and juggle carrying food from the counter to the table (while also carrying carseats and diaper bags and highchairs) makes the whole experience less stressful for parents. This is an innovative way to better serve - dare I say, delight - this customer persona and fulfil the Chick-Fil-A brand promise.
Innovation is one of HubSpot's 'pillars of delight.' As Kilens describes it, "The bottom line here is that you need to be innovating your products, your processes and the overall customer experience to truly delight people. Innovation can be large-scale, like a new product or a whole new way to get help with your product. It can also be on a smaller scale, like how you train new employees to handle customer questions or the content formats you're using to help people see value with your product."
Chick-Fil-A has also innovated the products they serve. They're now offering new menu items like premium coffee, frosted lemonade, and a "superfood side" of kale and broccolini salad. Continuing to research by testing things like different sauce flavors at some franchises allows them to keep bringing value to customers by providing delightful products and experiences. Innovation is one of Chick-Fil-A's core competency and uses it as a competitive advantage.
How are you innovating to delight your customers? Have you instituted any new products or services or processes that are designed to delight? Have you identified your Core Customer and their specific needs? Do you know who you're trying to delight and understand them well enough to know what it would take?
HubSpot offers 7 Customer Delight Guidelines:
Delight Team Members
Educate Team Members
Empower Team Members
Listen
Ask
Serve
Follow Up
Consider these guidelines and the example of Chick-Fil-A. What's your customer service strategy that's going to help you win against your competitors? Remember Maya Angelou's famous quote, "It's not what you say, but how you make them feel…"
Good luck!
Photo Credit: iStock by Getty Images
Looking for more resources on Core Customer? Check out these related posts:
What is the Difference Between Primary & Secondary Core Customer?
Define Your Core Customer to Develop a Winning Brand Promise (Video)
3 Steps to Identify Your Core Customer
Are Your Customers Happy? 8 Customer KPI Examples
Execute for Your Core Customer
Who Is Your Core Customer? [Video]
How Do I Sell More to My Core Customer?
Photo Credit: iStock by Getty Images
Photo Credit: iStock by Getty Images