As a member of your company's executive team, you have a lot on your plate. And, particularly in middle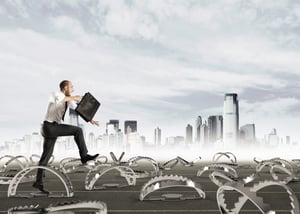 market companies, C-suite executives have some unique challenges that other leaders may not face. According to an article in Forbes, "The best leaders today combine agility and emotional intelligence with innovative thinking and an inclusive mindset. They must be adaptable and able to pivot quickly with sudden market changes in an uncertain economic and geopolitical climate." If this sounds a little overwhelming to you, it does to me, too. In addition to these lofty expectations, today's execs face some concrete problems.
Here are a few challenges faced by the modern C-Suite:
At Rhythm Systems, we've been focused for over a decade on helping your entire organization succeed by implementing our Think-Plan-Do methodology and software platform and cascading it throughout your entire organization. However, in recognition of these unique challenges specific to the executive team, we've recently launched a toolset exclusively for the C-Suite—one that is designed to address each of the challenges above and is tailored to fit your unique needs. We'd love to talk with you more about how we can help you and your executive team succeed.
If you enjoyed this post, here are some others you should check out:
Why CEOs Need a Leadership Path of Progress
5 Insights You'll Learn from Executive Coaching
Leadership and Levels and Styles of Decision Making [Video]
Align Your Leaders and Engage Your Employees with Monthly Meetings
Alignment: Getting Everyone on the Same Page
A CEO's Hidden Guide to Finding Hidden Disease in Your Organization
Mastering a CEOs Most Important Skill: Listening
Photo Credit: iStock by Getty Images
Photo Credit: iStock by Getty Images