Sun, Jul 31, 2016 @ 12:00 PM
Whether you are out at the beach or lazing by the pool, summer is the perfect time to catch up on reading.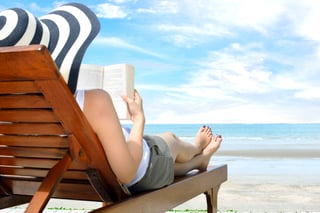 I usually read a wide swath to keep my brain occupied and happy. As I have gotten older, I have found less and less time to read, but my book pile keeps growing. I am trying to finish that pile sooner rather than later.
Below are my five recommendations perfect for vacations or lazy summer afternoons.
1. A Man Called Ove by Fredrik Backman
A Man Called Ove was so good, I bought it and finished it within 6 hours. A grumpy old man is trying to die in peace, but he keeps getting interrupted by his new neighbors.


2. The Nightengale by Kristin Hannah
If you have a sister, this novel will make you cry. The Nightengale is a wartime novel about two sisters and their roles in World War II.
3. Alexander Hamilton by Ron Chernov
If you live under a rock, you might not have heard about the smash Broadway musical, Hamilton @HamiltonMusical. Ron Chernov's biography is the basis of the musical.
4. The Girl on the Train by Paula Hawkins
If you love thrillers, you will not be disappointed by Paula Hawkins. @PaulaHWrites


5. The Girl with all the Gifts by M. R. Carey
Typically, I do not enjoy anything zombie-related; however, I loved this sci-fi thriller. @michaelcarey191
So, what am I reading right now? Right now, I am reading A Little Life by Hanya Yanagihara @alittlelifebook for my book club, and Elena Ferrante's second book in her Neapolitan Novels series.
Let me know what you think of my recommendations @ac11215; I would love to know what you think!
Photo Credit: iStock by Getty Images