Rhythm Systems is hosting the Breakthrough Conference 2016 in Charlotte, NC on October 18-19. Save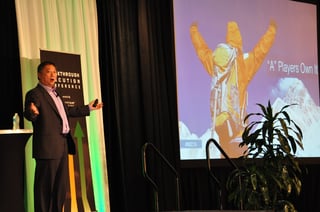 the date for 1.75 days full of breakthrough team execution. Now is the best time to recruit your team, get your tickets, and book your rooms. Why register now? What's the hurry if the conference isn't until October? Well, I'm glad you asked! I have compiled a list of the best five reasons why you should not wait to buy your tickets.
Charlotte, the Queen City
Your summer clothes are out now, and in October, there is no reason to pack them away. It can still be comfortably warm in the south! Bring a jacket, though, just in case. Even if it's raining, it's still warm! Ally wrote a great blog on why we host our conference in Charlotte, but there's been an added value to the Queen City - we are now one of the fittest cities in the WORLD! On May 14th, we broke a Guinness World Record for the world's largest circuit training. I was there doing burpees and contributing to the cause. When you stay at the Hilton Charlotte City Center, where our conference is taking place, you'll have access to the YMCA to keep up with your fitness. After all, we understand a healthy lifestyle is important to you.
RS SuperGreen Team
The Rhythm Systems SuperGreen Team is eager to take care of you; you should see our spreadsheet of ideas! We're working on a plan to help you explore what Charlotte has to offer when you arrive Monday night and look forward to greeting you bright and early Tuesday morning to jumpstart our time together. We are busy coming up with plans for how each member will be at your service and finalizing ideas on how to wow you. We are taking extra care to prepare to keep you engaged, energized and having an overall delightful experience.
Dream teams around the world are coming - share your success story & hear theirs
Last year, we had a video booth where attendees shared their company's breakthroughs (and two powerful breakthrough stories won Apple Watches!) The crowd was able to hear about success stories from leaders around the world all in one room. As if that were not enough inspiration, Mike Praeger, the CEO of Avidxchange, was a guest speaker. When he was done, I heard attendees say, "I want to be like them." Mike encouraged a crowd of leaders and A Players to come up with a laser focused strategy and execute on it. We will make it even easier for you to talk to other attendees with our networking Happy Hour at the end of the first day. A little bit of liquid encouragement always helps.
New Breakout Breakthrough Sessions and New Keynote Speakers!
I am personally very excited about our new sessions since I am debuting as a Breakthrough Session Speaker! To add to this excitement, we are having our first breakthrough session for Rhythm Certified Users (yes, this is the session I'll be hosting. I'll write another blog about it soon). I promise we will rock your world with our breakthrough sessions this year. We have already begun creating our outlines and brainstorming how to best deliver the content so you get the most out of each session.
Not only do we have great breakthrough sessions lined up, we also have three new keynote speakers! We are hosting our special guests, Dr. Stephen Vogt, the CEO/Founder of BioPlus Specialty Pharmacy and Joseph Grenny, the co-author of Crucial Conversations. Our third keynote is our very own Rhythm Consultant, Cathy McCullough. Our keynote speakers are the experts on team execution and will give you tools and ideas you can start implementing to enhance your company culture.
Early Bird Pricing ends June 30th
The ticket price won't be any lower than it is now! To keep our promise of "lowest ticket price now," we won't be running any more promotions. So, once July starts, tickets will be regular price through October. The discounted group rates will still be available ($50 off each ticket), but if you register a group of 4 or more and add in the Early Bird price, you'll save at least $600 (as opposed to only $200 without the Early Bird)! And the amount of education your colleagues will gain at the conference is priceless.

The Rhythm Systems team hopes to see you in Charlotte in October! We promise you will leave with a solid action plan, new connections, and endless ideas on how to grow your business and your people.
Photo Credit: iStock by Getty Images