Predictable Results
How Successful Companies Tackle Growth Challenges and Win
Behind-the-scenes stories from real companies and leaders who have made the leap.
In this ensemble book, execution experts from the Rhythm Systems team, led by author, entrepreneur, and execution guru Patrick Thean, share true stories of leaders tackling the big growth challenges—from identifying the right market opportunities to focusing and engaging employees to developing the operations and leadership systems a company needs to scale. The key, they have all learned, is building a reliable execution engine that gives them visibility.
Discover how to build focus, alignment, and accountability in your company, and you'll be on your way to the predictable results every leader wants.
PRE-ORDER HERE
Rhythm
How to Achieve Breakthrough Execution and Accelerate Growth

A simple system to help your team execute better and faster.
Drawing on his own experience as a successful serial entrepreneur, as well as the insights from hundreds of growth company clients worldwide, Patrick Thean provides practical tips and tools to help companies execute their plan better and accelerate growth. Rhythm is a simple system to empower everyone in your company to be focused, aligned and accountable.
Using Rhythm's Think-Plan-Do process, your team will have a reliable system to alert them when critical adjustments need to be made so you can keep the company plan on track and achieve your growth goals. Download our Executive Summary of the book to get started.
Align your team. Find your rhythm.
Execute Without Drama
The Red Yellow Green Series
The worst thing you can do is run as fast as you can at the wrong target. The most successful growth companies are able to measure the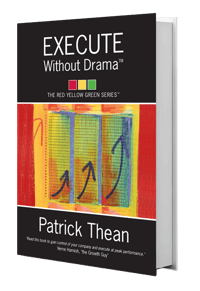 right things to help them provide insight into the future of their business.
This book is a great step in getting everyone in your company aligned, focused and accountable.
Be ready to learn:
9 rules that increase productivity and reduce the drama

How to avoid being blindsided by future problems

How to build accountability into your firm's culture