As a leader with decades in the business, I attended the Galliard Group National Gathering, where I spent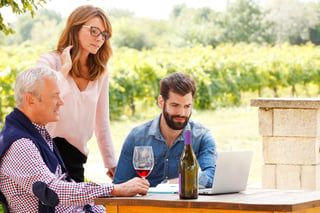 two days with many very talented and passionate people. There were family business owners, family business advisors, bankers, attorneys, and other professional consultants. They all shared the same values and belief that family businesses are important and need special attention for the good of our business and economic community. Why are these particular breeds of businesses important? For starters, there are 28 million of them. In addition, they make up about 90% percent of the small and mid-market companies in the USA.
Many people think of small mom-and-pop shops as family businesses, but that does not describe the whole picture. A family business in my rural hometown started out as just that, sixty or so years ago, and now exceeds $6 billion in annual sales. Moreover, they are still totally family-owned.
The subject is very special to me as I grew up in a family business and was part of a failed second-generation succession. It isn't easy to get multiple families to play nice with each other when they have different skills, needs, and long-term goals. However, there can be success if you pay attention and do the right things.
Family Business Succession Plan 2023:
Develop organizational and ownership succession plans and put them in writing.
Make sure you have the right players on the team. Family members should not be automatically included in the plan if they have the right skills or qualifications.
Insist on family members leaving the business for 3-5 years to gain outside experience and perspective.
Let new leaders in the business make mistakes to allow for future growth. Coach and mentor along the way. Sometimes it is necessary to bring in an outside resource to help with the mentoring.
Set clear parameters and develop clear roles. Family members can be value-added contributors to the business even though they may not have a leadership role.
Allow each partner to develop their own area of expertise so that roles do not overlap and each person can make their own way in the company.
Show respect to one another and do not allow the business to ruin family bonds and relationships.
Set boundaries and learn how to leave the business at work during holiday gatherings.
Keep the business goals transparent and objective, and do not let personalities or family issues get in the way of the business's health.
If necessary, hire an outsider to run the company to lead and manage the execution.
You can start early: Begin the succession planning process well in advance. This allows ample time to train and develop the successor, deal with conflicts or concerns, and ensure a smooth transition.
Develop a clear succession plan: Create a written succession plan that outlines the roles, responsibilities, and qualifications of the successor, as well as the timeline and steps for the transition.
Please include all family members: Communicate openly with all family members about the succession plan, address any questions or concerns, and ensure everyone is on the same page.
You can seek external advice: Engage professional advisors such as lawyers, accountants, or business consultants to provide objective guidance and support throughout the succession planning process.
Assess potential successors: Evaluate the strengths, weaknesses, and interests of potential successors, considering their management skills, industry knowledge, and commitment to the business.
Develop a comprehensive training plan: Provide the successor with opportunities to gain experience in various aspects of the business, such as operations, finance, marketing, and sales. This will help them develop the necessary skills to lead the company effectively.
Establish a mentorship program: Encourage the current leader to mentor the successor, sharing knowledge, expertise, and insights about the business and industry.
Maintain a focus on meritocracy: Make decisions based on merit rather than familial relationships to ensure the most qualified person is appointed to lead the business.
Plan for contingencies: Develop contingency plans for unforeseen circumstances, such as the sudden departure of a key executive or changes in market conditions.
Be open to implementing a phased transition: Gradually transfer responsibilities and decision-making authority to the successor, allowing them to grow into their new role while benefiting from the current leader's guidance and support.
Address potential conflicts: Develop strategies to manage conflicts that may arise during the succession process, including establishing clear expectations, maintaining open communication, and seeking external mediation if necessary.
Monitor and evaluate progress: Regularly review the succession plan, assess the successor's progress, and make any necessary adjustments to ensure a successful transition.
Family Business Growth Strategies in 2023
Digital Transformation: Leverage technology to streamline operations, improve customer service, and reach a wider audience.
Diversification: Diversify your product or service offerings to cater to a broader market.
Sustainability Practices: Implement sustainable business practices to appeal to environmentally conscious consumers.
Formalized Succession Planning: Ensure a smooth transition of leadership to maintain business continuity.
Customer Retention Strategies: Implement strategies to retain existing customers, such as loyalty programs or personalized service.
Market Research: Conduct regular market research to stay updated with industry trends and customer preferences. Talk to your core customer!
Partnerships and Collaborations: Collaborate with other businesses for mutual growth and expansion.
Employee Training and Development: Invest in employee training to improve service quality and efficiency.
Customer Feedback: Regularly collect and analyze customer feedback to improve your products or services.
Innovation: Continually innovate your products or services to stay competitive.
Financial Management: Implement sound financial management practices to ensure profitability and sustainability.
Automation: Automate repetitive tasks to increase efficiency and reduce costs, like our SMART AI Goal Coach.
Data-Driven Decision-Making: Use data analytics for informed decision-making.Good luck and grow your family business with purpose, Alan.
Take Our Team Accountability Assessment to see how your team stacks up.
Why You Need a Peak Performance Plan for Your A-Players
Accountability Definition in Management
Team Accountability Begins with Personal Accountability
How top CEOs Close the Strategy Execution Gap
Building Team Accountability: Job Scorecards
10 Signs of an Accountable Culture [Infographic]
Growing Team Accountability in Your Organization
Quick Tips for Building Accountability
5 Steps to Having an Accountability Discussion [Video]
Photo Credit: iStock Photo by Getty Images
Photo Credit: iStock by Getty Images