In the fall, I attended the Galliard Group National Gathering where I had the privilege of spending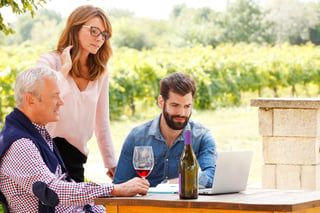 two days with many very talented and passionate people. There were family business owners, family business advisors, bankers, attorneys and other professional consultants. They all shared the same values and belief that family businesses are important and need special attention for the good of our business and economic community. Why are these special breeds of businesses important? For starters, there are 28 million of them. In addition, they make up about 90% percent of the small and mid market companies in the USA.
Many people think of small mom-and-pop shops when they think of family businesses, but that does not describe the whole picture. A family business in my rural hometown started out as just that, sixty or so years ago, and now exceeds $6 billion in annual sales. Moreover, they are still totally family owned.
The subject is very special to me as I grew up in a family business and was part of a failed second-generation succession. It is not easy to get multiple families to play nice with each other when they have different skills, needs and long-term goals. However, there can be success if you pay attention and do the right things.
Here are some key points to help your family business succeed and thrive for the next generation:
Develop organizational and ownership succession plans and put them in writing.
Make sure you have the right players on the team. Family members should not receive automatic inclusion in the plan if they do have the right skills or qualifications.

Insist on family members leaving the business for 3-5 years to gain outside experience and perspective.

Let new leaders in the business make mistakes to allow for future growth.

Coach and mentor along the way. Sometimes it is necessary to bring in an outside resource to help with the mentoring.
Set clear parameters and develop clear roles. Family members can be value added contributors to the business even though they may not have a leadership role.

Allow each partner to develop their own area of expertise so that roles do not overlap and each person can make their own way in the company.

Show respect to one another and do not allow the business to ruin family bonds and relationships.

Set boundaries and learn how to leave business at work during holiday gatherings.

Keep the business goals clear and objective and do not let personalities or family issues get in the way of the business health.

Hire an outsider to run the company if necessary to lead and manage the execution.
Good luck and grow your family business with purpose, Alan.
Photo Credit: iStock Photo by Getty Images