What is a skip-level meeting?
As defined in an article by Jared Lewis, "In a skip-level meeting,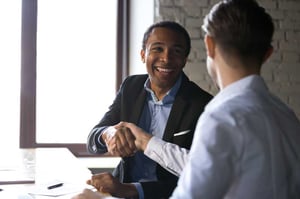 upper-level management bypasses mid-level management to talk directly to non-managerial employees. Although there's not typically a special position known as a 'skip-level manager,' senior managers conducting these types of meetings are considered skip-level managers." The manager meets with employees to try to better understand their team members, build trust in the organization and get a better sense of the work environment challenges facing your front line employees. Skip level meetings for employees are just as important as they are for managers, and both should be well prepared prior to the "skip level meeting." Done properly, the skip level meeting is an effective tool to improve communications across your organization.
There is considerable evidence that great skip level meetings (or "skip meetings") have multiple potential benefits. These include everything from helping them make better long term strategic decisions by understanding their customers better from the people who interact with them, improving employee engagement by establishing more personal relationships, and quicker resolution times by getting closer to the source. Teams that are more engaged with their managers tend to be higher performing teams and have a better sense of alignment, focus, and purpose.
Follow these four concepts to decide what to discuss in a skip level meeting with an employee.
Skip Level Meeting Agenda:
1. Understand the Purpose.
According to Lewis, "The primary purpose of the skip-level meeting within an organization is to determine the organization's effectiveness -- by getting an honest assessment from employees at all levels." These meetings are crucial for day to day operations and allow the manager to remove any roadblocks that are impacting performance.
Skip-level meetings allow senior managers to talk to employees freely without fear of retribution. Senior leaders can talk directly to their employees, instead of through messengers. It allows them to see whether their direct reports are being truthful or hiding issues. The 1 on 1 format allows for collaboration of the senior manager with the individual contributor and should allow for both the manager and the employee to feel comfortable.
2. Ensure Anonymity.
The bedrock of skip-level meetings is that employees can speak freely without fear of retribution. If employees fear retaliation, they will not be as open, undermining the whole point of skip-level meetings. This is especially important if the senior leader is hoping to learn about the performance and effectiveness of mid-level managers from their direct reports.
Assure your employees before you start the process that they will be cloaked in anonymity. Put them at ease that they won't face a backlash if they speak their mind. It is only when this occurs can you get full benefits of skip level meetings.
3. Plan Ahead.
According to Lewis, "Conducting skip-level meetings requires considerable advanced planning. Since skip-level meetings are effective because they provide upper-level managers with information normally not available to them, planning is especially important -- and those executives planning a meeting need to establish a specific purpose."
As with any meeting you run, take time to think and plan out how your skip-level meetings are going to go. Remember that you need to ensure total anonymity for each employee that will be involved. You need to provide the skip level meeting agenda ahead of time to the employee as they may be nervous meeting with "their boss's boss" and allowing them the time to prepare would be useful.
Think about the purpose of the skip-level meetings. Is it to determine managerial effectiveness, organizational alignment, organizational issues, etc.? It can't be all of the above, so make sure that you keep it some specific questions on the area that you are focusing on, but be able to make an adjustment if the team member has something specific that they believe to be important.
Once you know the purpose of the meetings, you can plan and map out your process for effective skip-level meetings. These meetings are a great part of working on a highly productive team if used properly.
4. Consider & Manage Risk.
It is critical you keep in mind the whole purpose of skip-level meetings. Lewis cautions that "Skip-level meetings should not be used as an opportunity to conduct a witch hunt against mid-level managers."
These meetings are for senior leaders to gain a fuller understanding of their organization from a high level. Try to keep risk low for both employees and managers, so that they can fully contribute to the process. This is another opportunity for managers to spend time with the organization and hear the issues "from the ground up." Employees should also be ready with skip level meeting questions to ask your boss or manager. The better prepared both sides are for the conversion, the more effective it will be. Skip meetings can be the missing piece of your employee engagement and team accountability culture.
Skip-Level Meeting Questions:
or what to discuss in skip level meetings
What projects at work have you most enjoyed working on?

What is some good news that you'd like to share?

What is your favorite thing to do outside of work?

What is the biggest issue facing your role in the organization?

If there was one thing that you could "fix" in the company, what would it be?

How would you change things if you were in my shoes?

How could we better leverage your unique skill set?

Would you recommend working here to your friends?

What is keeping you from being more successful than you already are?

What are your goals in the next 3 to 5 years?

What is your favorite book, podcast or movie?

How can we help you achieve those goals?

What would you do differently if you were the manager of your team?

Do you know the company's goals?

What can we do to make you happy with your role?

What do you need from the leadership team

Do you know how your team's goals support the company's?

What are your goals in the next few years?

Is there anything else that we should have discussed?

Is there anything else that I can do to help you and your team?

How can we help you work with your manager?

What is your favorite part of the company?

What is you least favorite part of the company?

When have you felt most proud of being part of this organization?

Are you happy with your role?

If you are meeting with a manager, ask them if they are having regular meetings with their direct reports.
Additional Rhythm Systems Resources for Team Meetings:
How To Have Effective Weekly Staff Meetings (With Sample Agenda Template)
Download our weekly meeting agenda template
Are You Having Weekly Meetings with Yourself?
Supercharge Your Meetings with This Effective Weekly Meeting Agenda
8 Ways to Make Weekly Meetings Strategic vs. Tactical (Video)
Weekly Adjustment Meetings vs. Weekly Status Meetings (Infographic)
Consider using Rhythm Software to run your weekly meeting, where the status and agenda are automatically created every week to keep you on track!
Photo Credit: iStock by Getty Images