Written by Guest Bloggers Ryan Whitley, CFP® and Brian Swilling, Financial Advisors at Navipath Partners and sponsors of the 2018 Rhythm Systems' Breakthrough Conference
What Is Executive Compensation?
Finding and keeping the right leaders for your organization is one of the most critical drivers of success. The increasingly competitive market for top talent has created a need for creative compensation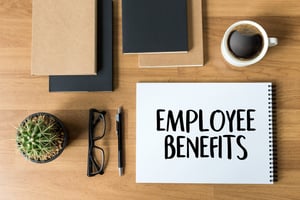 strategies. The right financial incentives can help align the interests of top talent with the long-term vision of the company.
In every successful organization, there are exceptional people who are primarily responsible for the company's growth and success. Their exceptional value gives the business owner a reason to ensure these individuals are happy in their job.
Your Opportunity
Many businesses try to reward and motivate these individuals with higher pay and cash bonuses. However, that could leave them faced with a potential bidding war. Another company can simply offer them more, and there is no incentive for them to stay.
Those extra dollars could be put into an executive compensation program that can employ a variety of incentive and retention strategies… compensation packages that may help keep these employees engaged and encourage them to remain with the company for a longer period of time.
Some companies entice and retain key employees by offering a qualified retirement plan. A retirement plan is a good start; however, because of its many limitations, it may not be enough:
SOME LIMITATIONS OF QUALIFIED RETIREMENT PLANS
| | |
| --- | --- |
| For businesses | For their key employees |
| • Minimum coverage rules | • Maximum contribution caps |
| • Non-discrimination requirements | • 10% penalty for early withdrawals |
| • Top-heavy testing | • Required minimum distributions |

Another Option: Executive Bonus Plans
An executive compensation strategy is a mutually beneficial agreement between the business and the executive/key employee that can work to motivate and retain top talent. Executive bonus plans are a non-qualified/non-ERISA arrangement that is typically business sponsored, but not business owned.
KEY FEATURES OF EXECUTIVE BONUS PLANS
| | |
| --- | --- |
| The business can | Their key employees can |
| • Attract the key employees it needs | • Save more for retirement — beyond qualified plan limits |
| • Give the employees an incentive to stay | • Let the earnings potentially grow tax deferred |
| • Increase long-term retention through annually-increasing vesting | • Later receive tax-preferred income |
| • Choose who gets to participate | • Leave an income tax-free death benefit for their beneficiaries |
| • Deduct the payments made to key employees in the year they're made | • Own and control the policy safe from creditor claims |
| • End the plan at any time — no IRS filing necessary | |

Properly planned and executed, Executive Bonus Plans can incentivize and reward key executives in any size firm. There are many variables to consider when determining the ideal arrangement to properly compensate your executive team; the company's cash flow, entity type, etc...
Top talent is being poached at an alarmingly high rate. This type of turnover can be detrimental to even the strongest of organizations. Get creative, and properly incentivize your most important people by aligning your plans for your organization with their financial interests. This is how to win the talent war!
About Our Guest Bloggers
Brian Swilling and Ryan Whitley, CFP®, Financial Advisors at NaviPath Partners with Waddell & Reed, can help organizations structure and evaluate compensation plans that align with your strategic talent needs. They can incorporate measurable impacts on performance, efficiency and risk management by developing cash and equity compensation programs that serve the interests of executives, owners, and the organization. They can also assist in designing bonus plans to attract, retain and motivate executive talent needed for long-term organizational excellence.
https://www.navipathfinancial.com/

If you enjoyed this post, here are some other resources you might find valuable:
Are Benefits Enough to Attract and Engage the Best People?
Job Scorecard vs. Job Description: What's the Difference? (Video)
Leadership Accountability: The Five C's of Team Accountability
The 10 Best Employee Engagement KPIs (Video)
Photo Credit: iStock by Getty Images
Photo Credit: iStock by Getty Images