Don't Flip OFF Your Team, Instead Flip ON Your Team's Power
In my previous blog I shared why it's important to not Flip OFF Your Team. This second post regards how to flip them ON instead.
As a leader, you should retain authority to make the final decision, yet you should still invite input. Each team member should know that his or her input is expected – and needed – but final authority rests with you. The logical follow up is to invite team members to make their decisions with direct reports. This process helps your leaders consider their voices important in the decision process.
What I've discovered is that many entrepreneurs and leaders are struggling with successfully on-boarding younger generations of workers, specifically Millennial workers. The simple mathematical fact is that to build your business to last, you will have to hire younger (than you) team members. The question is, are you willing to adapt in order to leverage their strengths or, are you expecting them to fit in with your current culture and business practices? You may know that I'm a huge fan of Topgrading as the best practice for hiring your team, and Brad Smart recently wrote on hiring Millennial "A" players.
Highlights include:
• Recruit them to save the world
• Use the job scorecard with clear accountabilities (you know I love dashboards)
• Use the Topgrading career history form and interview process
• Immediately create an Individual Development Plan
• Coach, mentor, and train each
Do the above and increase your chances of flipping on the Millennial team member. Read Brad's full article here.
Yet, let's be reasonable, your entire team is not likely Millennials. Therefore you've got to attract, retain, and leverage players from all generations. Now it starts to get tricky – motivating all generations is not a one size fits all recipe. This is where a little research can guide us. I'll start with research published in the Academy of Management Journal in 1992 by Cecilia M. Falbe and Gary Yukl, titled "Consequences for Managers of Using Single Influence Tactics and Combination of Tactics."
Until this data was published, prior research had only found weak, even inconsistent, results for the influence tactics of leaders and entrepreneurs. This was the first time that study results revealed a clear difference among tactics to motivate or influence and the likely outcome. The report supported the theory that some tactics were consistently more effective than others.
Of nine approaches cited, the top three were the following:
1.Inspiration Appeal: My experience is that this works only if clearly linked to the action wanted. This is easily tied to the business theme for the quarter or year.
2.Consultation (your leaders might call this ask, listen and coach): This only occurs if you create a safe environment – one of inquiry not extreme or excessive consequences.
3.Personal appeal: It is difficult to succeed with this approach unless you've built a relationship of trust, and it is further enhanced when you know something about the team member in addition to day-to-day work behavior.
The above three approaches gained employee commitment to action 42-90% of the time, and I find them still valid in the workplace today.
Now let's fast forward to a recent Randstad study which offers five considerations for entrepreneurs and leaders to build a more inspired and productive team in 2014.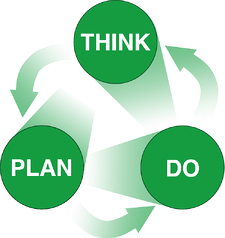 These five points are based on data from their Q2 2013 Engagement Study:

1. Minimize intrusions on your team members' time away from the office. "Constant connectivity" does not necessarily equate to increased productivity. While only one-in-seven employees say their employers offer a reduced schedule or flex hours during the summer months, 91% of those who are offered summer flex time say it improves morale and 80% say it increases productivity – suggesting that this is one of the most effective methods of engagement. Yet, if you send e-mail or text at 1:30 am just because you're awake ... it may be the very sound that wakes them and the very tool that flips them off.
2. Seek and Ye Shall Find. A good cultural fit was the second highest ranked factor (after work ethic) according to employers. Create a process to continually encourage employees to share their ideas and opinions. This makes them feel valued by their team and allows them to develop professionally. Here are highlights for engaging employees from Patrick Thean's book, Rhythm: How to Achieve Breakthrough Execution and Accelerate Growth.
•Think Rhythm for creating employee engagement: Fire bullets before cannonballs - test your employee engagement ideas before committing resources (Rhythm page 85).
•Plan Rhythm for mapping your employee engagement strategy: Dashboards are critical communication tools for employee engagement. Make most dashboards public (Rhythm page 173).
•Do Rhythm to nurture employee engagement consistently: Establish a regular time for your team's Weekly Adjustment Meeting and get it on everybody's calendar (Rhythm page 226).
3. Smarter people get, well – smarter. Two-in-five employees (40 percent) said training and development are among the most important skills for growing their career today, while collaboration and teamwork was only deemed important by 26 percent of respondents. Empower team members to seek opportunities to expand their abilities through training, development and continuing education. This doesn't have to be expensive as I've seen many leaders grow smart teams by reading a book at the same time and discussing applications and ideas for their business weekly. Some companies have done this successfully by reading one book per month for a total of twelve annually!
4. Establish clear social media policies and guidelines. Connectivity is important in today's world, yet it's important that social media does not distract employees from their time at work. Facebook is reportedly the most popular diversion for employees, with 11 percent of workers spending an hour or more on the site for personal use every day. One hour per day x 5 days x 50 weeks = 250 hours per year which equates to an incredible 6.25 weeks annually. Articulating appropriate use helps to ensure employees are using work time in productive, career-building ways - and your dashboards should give you leading indicators as to individual progress toward priorities.
5. Clarify Career Paths. Although less than half (44 percent) of employees reported they want their boss's position, many want to know they are valued and are part of the long-term business plan.
At this point, the supervisor turns the decision over to the team. Successful delegation has a built in feedback loop and concrete timeline. Voila! While being diligent not to flip off your teamwork switch, you can actually flip them on! Here's to not flipping you, or your team, off. Share your ideas and insights for Flipping Teams On in the comment section below. Now go grow your team! Barry
Photo Credit: iStock by Getty Images