Great leadership doesn't require a diploma or a degree. It's not reserved for some elite group of people. In fact, leadership can be something for everyone to embrace, from administrative assistant to janitor to manager to CEO. Sometimes all it requires is a shift in mindset: interpreting frustrations at work as opportunities instead of barriers.
It's time for all your team members to step up, take action and become a leader, and with the support of other great leaders, help the company (and yourself) succeed.
So, What Does Good Leadership Look Like? Leadership is about so much more than strategy, alignment, execution, operations, marketing, etc. It's about discovering and understanding each team member's potential (as well as your own) and finding ways to tap into that resource, something many entrepreneurs neglect to do – creating a ceiling on their business success.
Utilizing Think-Plan-Do gives you a paint-by-the-numbers approach to proven success in tapping the resources and energy of every team member. From presidents to generals to sports coaches, the best leaders are often the ones who look outside their own field of endeavor to discover how true, universally successful leaders think.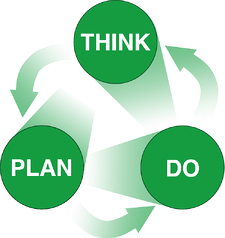 For example, take John Quincy Adams who said:
"If your actions inspire others to dream more, learn more, do more and become more, you are a leader."
Or Lao Tzu who suggested:
"A leader is best when people barely know he exists. When his work is done, his aim fulfilled, they will say: we did it ourselves."
Few employees would argue about the merits of such leadership styles—with the emphasis on encouraging and channeling their intelligence and passion into the job. And as a leader, leveraging those styles could also yield positive results. The 2007-2008 Towers-Perrin Global Workforce Study found that IF leaders recognized employees' untapped energy and ambition, AND then channeled it, they could increase employee engagement (defined as an employee's willingness to go the extra mile). And that engagement is golden. The study found that companies with the highest percentage of engaged workers also had the highest increased operating income and earnings per share. So by inspiring your staff, you are potentially boosting the bottom line.
How to Inspire Leadership

I hope you're now asking yourself, if you're an employee, how do you step into a leadership role? If you're a leader, how do you encourage staff to step up? Here is a direct way to implement what I call Barry's CUTE leadership approach:
Clear boundaries.
When the leader is away, what decisions can staff make? Remember, assigning responsibility without authority can be a leadership killer. Make sure everyone knows who is leading whom. If you're an employee, make sure you get clear direction before assuming responsibility. When following my recommendations to consistently use priority and KPI dashboards, you are discussing, agreeing to, and holding everyone accountable to boundaries regularly.
Understanding.
Employee empowerment is not an event; it's a philosophy with specific strategies that allow staff to make decisions that directly affect their job. You need team members that are in it for the long term – and, who consider how their decisions may affect the company. This becomes more complicated as your team grows. I've discovered that the levels of complexity trip up otherwise good entrepreneurs at predictable levels. For example, 20-25, 50, 100, and 250 employees seem to be common hurdles for new startup companies and their leadership. A clearly communicated plan (annual and quarterly) that is purposefully driven into each department is the best solution for clear understanding.
Trust.
Leaders need to create it and employees need to, well, trust. If your words and actions are just lip service, employees will know and steer clear. Avoiding flavor-of-the-month buzzwords can go a long way to proving you are genuine. Trust dissolves when you change direction week in and week out based on something recently read or, as one of my clients calls it, some new "shiny object."
Encouragement
Second-guessing team members' decisions when they are acting within the above boundaries undermines the entire process. Will team members make mistakes? Of course. When they do, it allows you to encourage others to try (and perhaps fail) by moving conversations away from status and blame (why did this happen, how could you, why didn't you, etc.) to solutions. Now the discussion sounds more like, "What will you do, when will you do it, do we feel satisfied that it will correct the status?" Beware not to shoot down an employee – or, you risk a team that refuses to step up with critical ideas or decisions.
This CUTE leadership approach is a powerful way to motivate your team. It allows them to get passionate about challenges and inspires them to step up with new ideas. It's a win-win situation. Left uninterrupted, this cycle repeats, encouraging passionate and skilled people to step up and make decisions about how to best serve customers or clients profitably, which ultimately fuels gazelle-like growth.
Please share the leadership choices you've made below. Keep growing! Barry