Working from home can certainly be a challenge. I've been working from home for the last 12 years,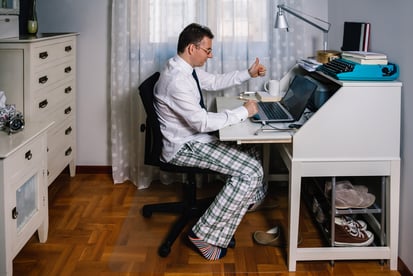 and over those years, I learned a key to success that has helped me greatly, especially in this time of sheltering at home during the COVID-19 crisis. That key to success is: DISCIPLINE.
I read Jocko Willink's Discipline Equals Freedom, and in that book, he provides thoughts on the topic of discipline that are very insightful. One that caught my eye is on the idea of motivation vs. discipline. He point out that, if we aren't careful, we can put too much stock in being motivated to do work to achieve our goals. Motivation is fickle; it comes and it goes. It is unreliable, and when you are counting on motivation to get your goals accomplished, you will likely fall short. So don't expect to be motivated every day to make things happen. You won't be. Count on discipline instead.
You know what you have to do, so make yourself do it.
There is wisdom in those words. Over and over in my life, I've seen people searching for the magic pill or some life hack that eliminates the need to do the work. We want quick and easy ways to gain customers, grow revenues, get healthy, lose weight, etc. In reality, they just don't exist.
You have to do the work.
You have to hold the line.
You have to make it happen.
Discipline is the key to success.
Create a schedule and rhythm in both your life and work, and be disciplined to stick to it:
Make time each week to plan the week ahead
Schedule time each day to plan your day ahead
Block out specific time slots in your calendar for planning and focused work
Reserve specific time slots in your day for exercise
Protect specific time slots in your day for thinking, prayer, and meditation
Block out a specific time slot each week for a weekly goal-setting, and review with your team at work
Make time in your day or week for the important things in your life that must be done for you to achieve your goals and dreams
Show up for those appointments, and do the work—day after day, week after week.
That is discipline, and discipline is the key to success in your life and in your work.
Discipline will set you free to achieve greatness.
Want more tips to help with remote work? Check out these additional blogs:
23 Expert Tips for Working From Home
Engaging Remote Employees through Culture
How to Engage Remote Employees that Work from Home
How Can I Source Ideas from Remote Employees Without Being Disruptive
5 Steps to Having a Productive Virtual Monthly Meeting
7 Tips for a Great Virtual Quarterly Planning Session

Photo Credit: iStock by Getty Images
Photo Credit: iStock by Getty Images