If you haven't already held your planning session for the coming quarter, consider this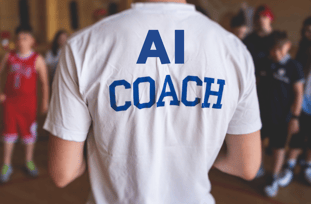 your friendly nudge to get it scheduled as soon as possible. Despite how the first half of the year has gone for your team, now's the time to empower your team to finish out the second half of 2023 strong.
It's incredibly valuable to pause and reflect on the last 6 months; to identify wins and losses and log what you've learned along the way. Are you where you'd planned to be at this point in the year when you set your annual goals? What's worked well? What's flopped? What needs realignment?
After you've looked back and identified valuable learnings, you'll be ready to set a path forward for the rest of the year, particularly what you most need to focus on for the imminent quarter.
It's no surprise companies that weekly track their execution of clearly written, measurable quarterly goals have a significantly better chance of achieving them. This is why middle-market CEOs and executive teams have relied on goal-setting solutions like Rhythm for years. And now with Rhythm's AI Coach, it's easier (and smarter!) than ever to craft the right goals when creating your quarter plan.
Write Better Goals as You Plan
As your team gathers to strategize and outline a solid quarter plan to propel your annual plan forward, Rhythm's AI Coach makes the goal-writing part of it a bit easier by offering suggestions for goals that are SMART [Specific, Measurable, Actionable, Realistic & Time-Bound].
It's never been easier to lead your team toward clear, precise, and measurable goals. Our AI Coach leverages machine learning algorithms as well as your company's past performance data stored in Rhythm to generate SMART goal suggestions tailored to your company's unique objectives. We've spent the last 16 years optimizing goal development, which will lead you toward ambitious-yet-achievable goals that align with your desired outcomes.
By offering only SMART suggestions, AI Coach helps eliminate unclear goals. Eliminate the head-scratching, the wasted time, and the miscommunication tied to poorly written, fuzzy goals.
How It Works
Simply type in a few keywords that capture what you're setting out to accomplish, and Rhythm's AI Coach will offer several suggestions for you. Once the suggested goals are auto-generated you can:
Select and use one of the goals as written
Select and edit one of the suggested goals
Generate a fresh list of suggestions
AI Coach will help you identify just the right words & measures to capture precisely what will move your team forward.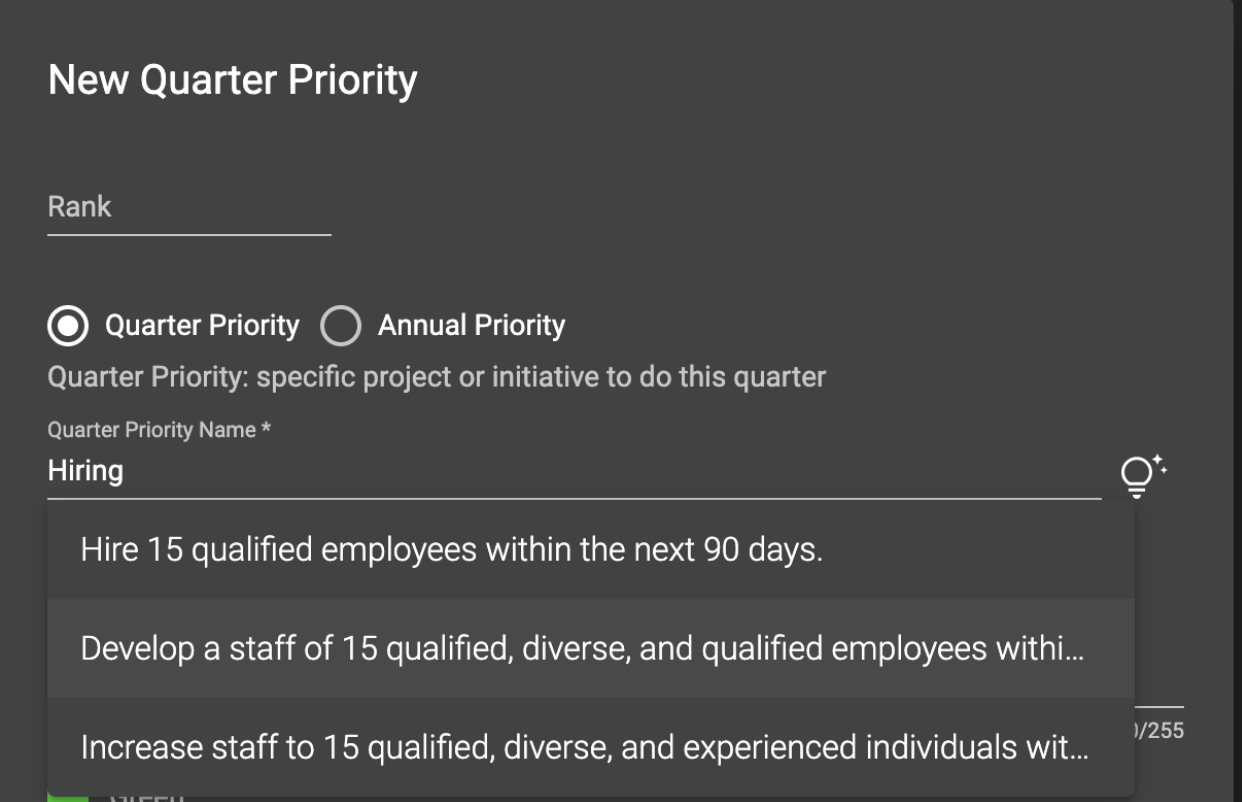 As you step back, reflect on the first half of the year, and recalibrate for the second half of 2023,
Let Rhythm's AI Coach be just that: a trusted coach. Let the coach help ensure that all members of your organization have clear expectations when it comes to reaching your company, team, and individual goals this quarter.
–Courtney Dyer
Here are additional blogs relating to quarterly planning:
Value of Outside Facilitation for Quarterly and Annual Planning
Lean Quarterly Planning: How Complex Companies Drive Out Waste
10 Tips for a Successful Quarterly Planning Session (Video)
How to Choose the Right Priorities During Your Quarterly Planning Session
Tips to Help You Prepare to Facilitate Your Next One-Day Quarterly Planning Session
How Much Time Should I Allocate for My Quarterly Planning Session?
The Definitive Guide to Quarterly Planning
Rhythm Systems Quarterly Planning Resource Center
Photo Credit: iStock by Getty Images
Photo Credit: iStock by Getty Images