"The executives who ignited the transformations from good to great did not first figure out where to drive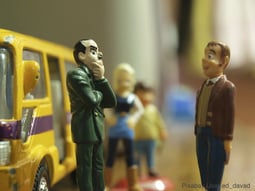 the bus and then get people to take it there. No, they first got the right people on the bus (and the wrong people off the bus) and then figured out where to drive it" (Good to Great, p. 41)


In order to adapt to our ever-changing world, companies may have to adjust strategy and change direction to continue the journey to greatness. But, if you hire people who are only passionate about short-term goals, these people may leave when your company has to be agile and change direction. Jim Collins posits that it is more important to hire the right people and put them in the right positions in your company first; then, figure out your strategy. As Collins pointed out, the best vision or BHAG in the world without the right people to execute it will not get you very far.
How do you know if you have the right people on the bus? In How the Mighty Fall, Collins offers six general characteristics of the right people in the right seats regardless of industry or specific roles.
Here's how Rhythm can help you with each:
Our Rhythm expert coaches go beyond helping clients get the right people in the right seats for today; they also help clients plan for their future organizations by figuring out the right roles and who should fill those seats in the future. As your company grows, you need to plan for your future people needs.
Collins points out that companies can only grow as fast as they can hire the right people to support that growth, so thinking through how you can help your team grow into the seats your future company will need and which seats you may need to hire for will help you continue to accelerate your growth. For more on planning your future organization, watch this archived webinar.
Photo Credit: iStock by Getty Images