If you've done the hard work to determine the right BHAG for your company, you are probably chomping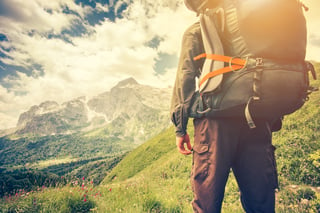 at the bit to get started. What's the first step toward achieving that 10-25 year visionary goal? If you truly have a BHAG that is audacious enough, you probably don't know where to start!
That's a good thing - it is supposed to be a little daunting. But, the good news is that you can start steadily climbing toward your goal using the tips outlined in the infographic below to help you reach the summit.
Text of Graphic:
Jim Collins and Jerry Porras coined the term BHAG (Big Hairy Audacious Goal) in their book Built to Last. They describe a visionary BHAG as a 10-25 year compelling goal that stretches your company to achieve greatness. It should be a huge, daunting task, like climbing Mount Everest, which at first glance, no one in the company knows how on earth you will achieve. Here are our suggested tips to help you reach the mountain top!
To determine your BHAG, start with your Hedgehog by answering these questions: What is your company's Core Purpose? What could you be best at in the world? What is your Profit/x or Financial Engine?
Get in a Think Rhythm
Your BHAG isn't born overnight. Meet regularly to think about and discuss it.
Put it to the Test
Is it energizing for people? Is it a little scary? Is it clear and attainable? Will you know if you hit it?
Set a Due Date
Know when the BHAG is due so you can get the creative juices flowing.
Tell the Story
Get your team excited and engaged by sharing the vision.
Set Base Camps
Plan your journey in 3-5 year stages.
Connect to Execution
Use Your BHAG to help say no or yes to opportunities.
Top of Mt. Everest - Your BHAG
Celebrate, reward, show appreciation, recalibrate, what's next?
WHY YOUR BHAG MATTERS
A great BHAG will cause your team to stretch beyond the obvious and beyond the status quo. Just like stretching a rubber band creates energy, stretching your team also creates energy. Committing to a goal that you don't know how you will achieve creates an environment of innovation and inspiration. It gives people a vision of what the future might look like if everyone pulls together and gives their individual best to the collective effort. With the right BHAG, your people will embark on a crusade to achieve greatness.
Share this Image On Your Site
Looking for some more information on BHAG to help get you started? Check out our additional resources:
Does Your Company's BHAG Connect to Your Hedgehog?
What Drives Your Financial Engine? Profit/X Examples
Editor's note: This blog was originally published on Jan 27, 2015, and has been updated.
Photo Credit: iStock by Getty Images