I just got back from a user conference, and I was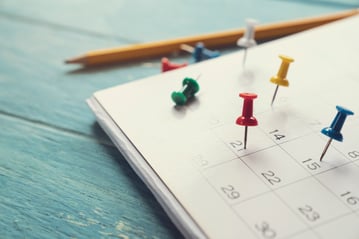 reminded of the amazing level of detail and planning that goes into pulling off an event like this - there's so much to do from all departments. Someone's got to lock down the venue, plan the budget, secure the speakers, sell the tickets, market the event, set up the registration and event website, handle the hotel room blocks, ensure customers have a great experience, plan the food and beverages, recruit and coordinate the sponsors, purchase the swag, design and print all the signage, name badges, slide decks and more. And then, you have to put on the event with all the inevitable unexpected snags and last-minute surprises, and follow up after the event. A project like this requires alignment, communication, and flawless execution.
As we gear up for our own Breakthrough Conference next month, I wanted to share how we are using Rhythm to pull off this company-wide, cross-functional project.
Set a strategy, and communicate the plan. Our conference team is cross-functional with representatives from Marketing, Client Services, Consulting, and our Executive team. We have a separate team in Rhythm where we keep our strategy for the conference, house our meeting records and record our 4-quarter flyover plan, detailing what we need to do and by when throughout the year. We also pull in Priorities from this team to the quarterly dashboards for the teams doing the work for the quarter. So, we have a high level view of the conference as a whole, and the teams doing the work have the Priorities they are accountable for delivering in their dashboards to discuss in their weekly meeting.
Measure progress. Each year, we take a look at the goal for the conference and set key performance indicators (KPIs) based on what we are trying to achieve. We are focused this year on getting face-to-face time with as many of our clients as possible so we have a KPI around the number of client companies coming to the conference. We set a goal based on what we did last year and our projections for growth. We look at this number every week and have discussions as a team to help brainstorm ways to get more of our clients to come to Charlotte this year.
Keep organized and on track. For us, using Actions and Attachments in Rhythm is key for coordinating so many moving parts. We have a few key documents in Google Drive - the Run of Show, the Budget, the Attendee list, etc. - that everyone needs to have at their fingertips, so we attach those in Rhythm. For speakers, we attach the slide template and presentation guidelines. Even though we have a system for registration and different documents, we know that Rhythm is the central hub where all the information is linked so you have what you need at your fingertips. The Actions help us stay on top of what needs to happen and by when (the key deadlines that we need to hit to be successful). It's great to be able to look at an Actions list and see who's running behind and may need help so that nothing slips through the cracks.
I'll share a few hacks to help with managing such a large project in Rhythm:
Make a Copy: Each of our speakers has a Priority for developing content with a set of Actions based on milestones for when the slides have to be ready and when the worksheets have to be sent to print. I set up one of them, and then used the "Make a Copy" feature to easily create the same priority for each speaker. To make it even easier, you can also "Re-Assign Action Owners" to quickly assign all the Actions to the right person. This will save you lots of clicks and ensure consistency across the various contributors.

Update Red-Yellow-Green each quarter: I set up Priorities that spanned multiple quarters since our team works on content development all year. I found it helpful to put the goal for each quarter in the description for my Priorities, and for each quarter, I adjusted the Red-Yellow-Green criteria based on what we were specifically trying to achieve that quarter. The system saves the criteria from previous quarters, so you don't have to worry about losing any data, and this helped us get more focused and know whether we were on track for our goals for the specific 13-week race. It's easier to status on a forecast for the quarter than on a goal that is almost a year away.
Use Sort/Filter and Search: When you are managing the same priorities over the course of a whole year, the list of Actions and Child Priorities associated can get quite long. I find it very helpful to be able to filter out completed items in the list to focus on work that still needs to be done. From our team view, we can also set a filter so we just see items that are marked Red or Yellow - this way we know exactly who needs help now. The search is also great if you can't remember where you attached that slide deck or which team member is working on that particular task.
I hope these tips are helpful - whether you are planning a big event like an annual conference, or managing another large, cross-functional project. Speaking of, we have a great breakout session where our Head of Products, Ryan Walcott, is going to teach some of these tricks in-person. Hope to see you there!
If you enjoyed this post, here are some others you may like:
How CEOs Grow Accountable Leaders & Teams [Video]
A Leader's Template: 6 Questions to Ask in Your Next One-on-One Meeting
5 Insights You'll Learn from Executive Coaching
Employee KPI Examples: How to Measure What You Want to Move
The Five C's of Team Accountability
Strategic vs. Tactical Leaders: Which Are You? [Video]
11 Books Every CEO Should Read
Daily Routines of Successful CEOs [Infographic]
Photo Credit: iStock by Getty Images