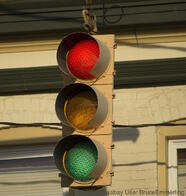 At the end of every quarter, Rhythm Coaches provide their clients with a Rhythm Progress Report. The tool prompts some thinking. How good are we at using the Rhythm methodology? Are we truly living our strategy, or have we simply just filled in a text field on a form or in a piece of software? What do we need to work on?
In the Progress Report, several strategic topics and best practices are listed under the categories Think Plan Do®. Under Think is BHAG, Core Values, Brand Promise, etc. Plan includes having a Quarterly Plan in place and cascading to teams. Do lists the weekly adjustment meeting and accountability habits.
Coaches assign a color to each area to "grade" their clients' progress using this success criteria:
SuperGreen: Mastery of Rhythm Best Practices
Green: Adopting Rhythm Best Practices
Yellow: Working on It
Red: Stuck
With our focus on BHAG this quarter, below are some things we, as coaches, consider when evaluating a company's BHAG:
Does your BHAG motivate people inside and outside of your company?

Are you measuring progress toward a clear and specific destination, and does your team have a sense that you're moving forward?

Can you see how the BHAG is being used to guide decisions?
Is your BHAG big and hairy enough? Does it cause you to gulp?

Does it have a 10-25 year time horizon and include a specific year for completion?

Is your BHAG being measured? Will you know when you achieve it?
So, how would you Red-Yellow-Green your BHAG? If you are Green or SuperGreen, excellent work! If you are Yellow or Red, establish a Think Rhythm and continue to turn your flywheel one click at a time!