Typically, I am on the road between 20 to 30 days per quarter. Between speaking events and visiting my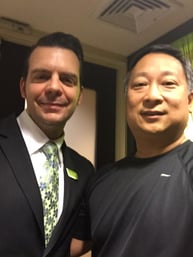 clients, it's safe to say, I travel a lot. Realize it or not, business travel is stressful. Even though you may not feel it, your body does. Spending hours sitting on planes, sleeping in unfamiliar beds and not ever really getting any downtime. In my travels, I've found that having a familiar place and a familiar bed helps to lower my stress level. This is one of the main reasons I'm a loyal Marriott customer, but of all the Marriott hotels I've been to, Marriott Philadelphia West in Conshohocken, PA, feels the most like "home away from home" because of one employee.
Luigi manages the concierge lounge at the hotel and has been for 8 years. I've been coming to this hotel once every quarter for 6 years, and even though I am only there 4 times a year, Luigi always remembers my name and knows my travel schedule. He always provides a warm friendly welcome, without being overbearing. He will tell you about all the appetizers and desserts being served, almost like he personally selected them for you. He entertains his guests by playing different movies every night in the lounge. When he first started providing movie nights, he actually used his own money to provide the DVDs for movie night. Today, his manager provides him a budget. He used to also hold a Wednesday night poker tournament where the winner would take home 5,000 Marriott points. It was a great way for guests to unwind and get to know each other, instead of spending their evening alone. Unfortunately, poker night no longer takes place due to budget restrictions, but movie night is still a nightly occurrence.
Luigi clearly goes above and beyond, or as we call it at Rhythm Systems, going the 2nd mile. Why does he do it? I decided to interview him one night to find out what makes him tick. Luigi is celebrating his 17th anniversary with Marriott this year. When he first moved to the United States from Italy, he was a landscaper, but due to allergy problems, he had to find another job. A friend suggested he apply for a job at the Marriott, where his allergies wouldn't be an issue. Speaking only Italian and Spanish, he got the job and started as a busboy in the restaurant (then called the Regatta Bar and Grill). Then because of his hospitality, he was promoted to the concierge lounge after 8 years. Working for Marriott, Luigi most enjoys providing a wonderful home away from home for his guests. In the recent article announcing Marriott as one of Fortune Magazine's 100 Best Companies to Work For (for the 17th consecutive year), Marriott credits their successful culture to their guiding principle of putting their people first. Since Luigi is well taken care of by Marriott, it drives him to take good care of his guests and go the 2nd mile.
There is a Sheraton closer to my client than the Marriott, but because of Luigi, I've chosen to stay at the Marriott Philadelphia West for the past 6 years. It wasn't for the poker games and extra Marriott rewards. I don't stay for the movie nights. I don't even stay in the lounge for very long, but I love to see Luigi's familiar face. When you're a road warrior like me, it's the little things that make all the difference, and seeing Luigi makes it feel like home, relaxes me, and makes me smile.
Marriott - if you're out there reading this. What would happen to your business if you had a Luigi in every concierge lounge? Your business would explode! Your customer loyalty would increase and you would have an edge over your competitors. People go to Disney World to see Mickey. People would stay at Marriott for remarkable concierge lounge attendants like Luigi. You could even have Luigi train all of your concierge lounge attendants. No, wait. Nevermind, that would take him away from my Marriott. Don't do that. I need my Luigi there!
So, blog readers, what is your secret weapon? What can you do to provide this type of competitive edge for your company? Who or what is your Luigi?
Photo Credit: iStock by Getty Images