Most companies these days are actively striving to engage more employees… and most think of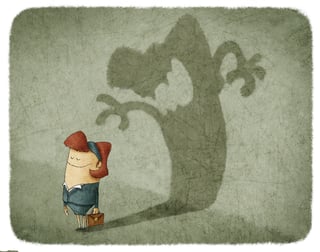 engagement as a willingness to go above and beyond what's expected of them and perform at higher levels of productivity. This sounds great, until you look around and realize that your employees aren't engaged - they're burnt out. All those late nights and crucial projects eventually lead to making mistakes, missing work, losing enjoyment for the job and life in general, physical issues like heart palpitations, insomnia, and stomach issues... Increased productivity and high performance are great, but only if they are sustainable over time. Burnout can be even more costly than low levels of employee engagement, so when you design your culture for high performance, be sure to set expectations that are realistic for your team and to take steps to specifically prevent burn out.
More than half of employees in North America (64%) report experiencing high levels of stress, and work is one of the most commonly reported causes of that stress. In a 2014 survey, 35% of respondents reported losing an hour or more per day of productivity due to stress. Chronic stress can cost a lot more than a few hours of lost productivity - it can lead to serious mental and physical health issues.
On the flip side, in addition to just saving money you'd waste on lost productivity and turnover due to burnout, a New York Times article I read recently cites a study by Towers Watson that found that companies actually benefit financially from promoting employees' physical, emotional and social well-being: "Companies in which employees reported feeling well taken care of — including not working too many hours — had twice the operating profit margins of those with traditionally engaged employees, and three times the profit levels of those with the least engaged employees."
In my mind, preventing chronic stress and burnout in your workplace is a win-win. So, how do you do that? Many of these tips are adapted from Tony Schwartz's "The Secret to Sustaining High Job Performance."

5 Ways to Prevent Employee Burnout:
Treat all employees with respect, listen to their concerns and make adjustments to help them when they need it.


Offer intermittent breaks through the day. People are able to focus more and perform at higher levels when they can periodically rest and renew their energy.


Recognize and appreciate your employees. But, be careful not to reward behaviors that will ultimately result in burnout (like pulling an all-nighter).


Communicate a clear and inspiring vision, or BHAG, for your company, and allow people to spend focused time working on their most important priorities connected to that vision.


As a leader, model living a balanced life. Don't worry about always being the first one in and the last one to leave - lead by example so that your team has permission to prioritize caring for their mental and physical health.
Find a balance between getting the most productivity out of your team and giving them permission to take care of themselves. Chances are, you'll find that giving your team the flexibility to recharge results in more creativity, more passion, and more engagement in the long run.
Good luck!
Photo Credit: iStock by Getty Images
Want to learn more about Employee Engagement? Check out these additional resources:
3 Employee Engagement Stats that Will Make You Take Action
The 10 Best Employee Engagement KPIs [Video]
5 Minute Rhythm: Improving Employee Engagement [Video]
5 Employee Engagement Blunders to Avoid
How to Fuel Employee Engagement with a Recognition Culture
Are Employee Motivation and Engagement the Same? [Infographic]
10 Ways to Improve Employee Engagement in Your Manufacturing Company [Video]
Photo Credit: iStock by Getty Images