Recently, my colleague Tiffany wrote a post about Characteristics of Well-Written Priorities. Her post got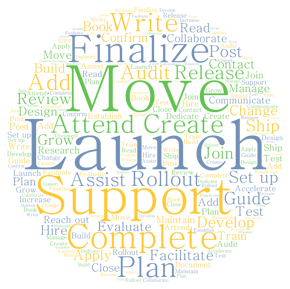 me thinking that many of us (myself included) don't spend enough time in the beginning of the quarter making sure we get the details of our plan just right. It really does matter that we take the time to write clear and specific goals that spell out exactly what we need to accomplish this quarter. Otherwise, how can we hope to get the most out of our 13-week race?
As Tiffany pointed out, the first step in getting your quarterly priority just right is choosing the right verb. While this may not sound so critical, we can all agree that there's a huge difference between "Work on product rollout" and "Complete phase one of product rollout." One could mean anything while the other is very clear about what you are actually doing.
To help you get your thoughts organized around what the right word is for what you've got to do this quarter, I did a quick survey of just a handful of the thousands of client priorities we have recorded in our Rhythm software. Not surprisingly, the ones with clear verbs were usually statused Green!
Here's a list of verbs that you can use to write better priorities: Implement, Train, Launch, Move, Support, Complete, Finalize, Plan, Create, Attend, Write, Release, Rollout, Assist, Develop, Set up, Facilitate, Audit, Review, Change, Evaluate, Collaborate, Add, Guide, Communicate, Apply, Contact, Reach out, Confirm, Design, Maintain, Ship, Accelerate, Manage, Research, Grow, Post, Read, Test, Join, Build, Dedicate, Book, Increase, Document, Hire, Establish, Close.
Then, once you have the right words for how to phrase your priority, you want to also choose the right words to describe your Red-Yellow-Green success criteria. If for you "Complete phase one of product launch" means that you'll have it ready for internal testing, that would be your Green. And you'll do yourself a favor by spelling this out clearly so that you're team isn't thinking "Complete phase one of product launch" means that it will be in your customers' hands by the end of the quarter.
It is just as important to be clear about what failure looks like as to it is to be clear about your Green goal. When setting Red criteria, it can be tempting to say something like "Not done." That's not very descriptive. You can come up with better Red criteria by asking, "What is the scenario where something bad happens?" That's usually a good idea of what failure might be for the priority. For the example we're using, maybe Red is "Too many bugs for internal beta."
Before you get so bogged down in finding the perfect words, remember that the purpose isn't to word-smith your quarterly plan to death. You don't have to say it in just the right way as long as you are saying it in a way your team clearly understands. How do you know if they get what you're saying? You have to circle back with them to share your plans and ensure that you are all aligned.
These are the kinds of conversations that need to happen around your priorities, due dates, Red-Yellow-Green success criteria, and action items before you start executing on your quarterly plans. If you don't circle back to the team to ensure alignment on your individual priorities, you could all be working on the same projects but going in different directions. Trust me, that wastes a lot more time, energy and resources than taking a few minutes to be intentional when you write priorities and to share those with your team to check for understanding.
Photo Credit: iStock by Getty Images