At Rhythm Systems, we work with clients to ensure they are measuring the metrics that matter to allow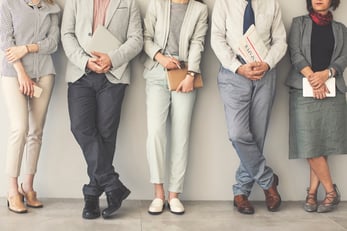 them to achieve their dreams and goals. Our strategy execution software allows you to create KPI dashboards to ensure team accountability, alignment, and execution-ready quarterly plans. The staffing industry KPIs for recruiting that we have compiled below represent many of the metrics that can be measured. However, make sure that you pick the top recruiting KPIs that work for you and your team.
The Staffing Industry has grown nearly twice as fast as the economy as a whole. As we begin to see growth rates in the industry return to normal, the key is to align your team around the proper KPIs with a good mix of results and leading indicators. Finding quality candidates in today's economy is equally challenging and you need have a recruitment team that is excellent at talent acquisition., while keeping your cost per hire down. You'll want to pick the staffing KPIs that you'll want to discuss at every weekly team meeting so you can make adjustments as needed to get your team back on track if they are off the mark. Picking the right recruiting metrics will depend on each company, but we have several staffing metrics below for you to use as a template.
Staffing Industry KPI Examples for Recruiting:
Number of starts per week
Fill percentage of open jobs
Percentage of redeployment
Weekly Job Orders
Spread or gross margin
Applicants to hire ratio or offer acceptance rate
Employee Retention or turnover rate
Billable hours
Number of timesheets submitted on time
Time to fill
Submissions per hire (to monitor hiring process)
Temps to full-time hire
Continuing education and training hours
Number of client proposals (sales leading indicator)
Number of quality meetings per week (sales leading indicator)
Sales deals closed won
Glassdoor recommendations/stars
Fill rate
Interview to hire rate
New hires vs. replacement hires and source of hire
Number of billable hours closed/won
Number of billable hours delivered
Number of days to fill (or average time to fill)
Revenue
Client substitutions or acceptance rate
Hiring manager satisfaction rates or quality of hire
Job performance (sales quotas, customer satisfaction ratings, etc.)
While staffing KPI examples like the ones above can be helpful as you start thinking about the right recruiting KPIs for your firm, the key to getting the right KPI dashboard for your company is not just to copy another company's existing list. If you want to drive long term value of your company, you need to start by thinking about the business results that are critical to your staffing firm and measuring employee performance.
One of the best places to start planning your staffing KPI list is with your critical numbers. These numbers are usually determined in your Annual Planning and Quarterly Planning sessions and should be the highest priority KPIs on your dashboard. Then, consider what other results you are trying to achieve this quarter above and beyond your critical numbers. This will help you come up with results indicators to reveal the current health of your business based on past results. From there, think about what a leading indicator KPI might be for each of your results indicators so that you can look into the future health of your company and avoid being blindsided. You need to have the right balance of metrics on your staffing KPI dashboard to determine not only where you have been, but where you are going.
We work with lots of staffing companies at Rhythm Systems and understand the regional and industry challenges that can be involved and would love to see if we can help you accelerate your growth goals by increasing employee engagement and increasing your bottom line. Take a quick peek at our Rhythm Strategy Execution Software Demo or schedule a time to talk with one of our experts so we can help you better define your strategy, align your teams and execute your strategy. We can help you scale by growing revenue faster than you increase the number of employees and improve employee alignment towards your strategic goals
Rhythm Systems KPI Resource Center for all you need to know about Key Performance Indicators and how they can help you drive your staffing business. The data drive approach that these recruiting KPIs bring you can help you increase profitability and market share in a very competitive environment.
Looking for some KPI Examples to help get you started? Check out our additional KPI and KPI dashboard blog articles:
21 Production KPI Examples to Improve Manufacturing Performance
How top CEOs Close the Strategy Execution Gap
5 Simple Steps to Create Useful KPIs (Video)
5 Tips to create, evaluate and use Key Performance Indicators (KPIs) to drive results in your business
33 KPI Examples to Measure Productivity & Prevent Organizational Drag
Key Performance Indicators for Employees
KPI Examples for Successful Sales Teams
Comprehensive Guide for KPI Evaluation
Happy Adjusting!
Photo Credit: iStock by Getty Images