In many fast-growing mid-market companies, departments and teams do their work with little time or effort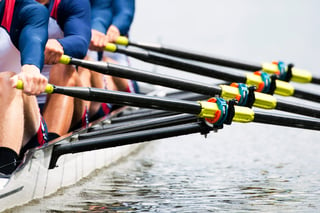 spent communicating with other departments or teams. What's the harm as long as everyone is getting their work done? According to an article in Forbes, this "silo mentality... will reduce efficiency in the overall operation, reduce morale, and may contribute to the demise of a productive company culture." These silos also have a negative impact on customer satisfaction and can kill innovation, according to an HBR article. This article also points out that "the bigger the company the more harmful a role silos play." So, the time to step back and evaluate whether your have silos and take the time to fix them is now.
How to Bust Silos

There it is - 4 simple steps to solve a complex problem. Even if your organization has a collaborative culture, as you grow, you may find that you need more tools to help you collaborate effectively. Silos don't happen on purpose; usually, they creep up on you over time as your teams get larger and the work within the departments gets more specialized. Prevent silos from forming as you grow by following the steps above, and enjoy creating a culture of innovation, fostering customer satisfaction and employee engagement, and getting your initiatives done, successfully.
If you enjoyed this post, check out these additional cross functional team resources:
Departmental Silos: The Silent Killer (White Paper)
Creating Synergy Between Departments and Teams
How to Improve Cross Departmental Processes that Impact Multiple Teams
Creating Synergy Between Cross Functional Teams
5 Telltale Signs of Trouble and How to Prevent Departmental Silos
Departmental Silos Can Sneak Up on You: Get Your Teams Aligned
Silos Can Sneak Up On You: Get Your Departments Aligned
Aligning Business Units and Killing Silos
Download Free White Paper on How Mid-Market CEOs Confidently Execute Their Growth Strategies & Win
Learn more about accountable leaders and teams.
Photo Credit: iStock by Getty Images
Photo Credit: iStock by Getty Images