Suppose you and your team have been in a Think Rhythm to determine what Jim Collin and Jerry Porras call your Hedgehog concept - the intersection of what you are passionate about, what you are best in the world at and what drives your financial engine. Defining your hedgehog and BHAG (pronounced bee hag) gives you a powerful mechanism to help you strategically plan for growth.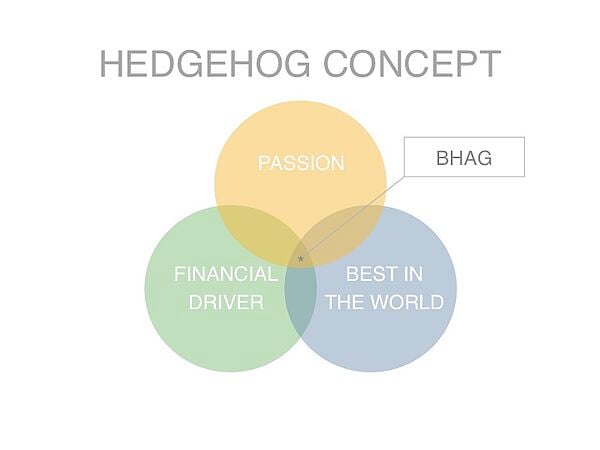 Specifically, the hedgehog concept is the intersection of these three questions:
What are you deeply passionate about?
What can you be the best at in the world?
What drives your economic engine?
Now comes the easy part, right? Simply take that information, determine where these three questions intersect and craft a long-term goal that drives on that intersection - your BHAG or Big Hairy Audacious Goal. Are you having writer's block?
It may help you to know there are 4 classic BHAG models from which to draw your inspiration:
Target Oriented BHAG: Set a clearly defined quantitative or qualitative goal.
Competitive BHAG: Compete with a common enemy.
Role Model BHAG: Mimic traits of another successful company outside your immediate competition.
Internal Transformation BHAG: Focus internally on your own transformational change.
Don't go running back into the Think session to put these 4 types to a vote. Great companies let their trusty hedgehog sniff out the one that's right for them. While discussing your "passion/purpose," "best at" and "Profit per X," you have undoubtedly taken stock of where you are today and where you want to go. Perhaps you've uncovered a passion that you haven't yet tapped into, or that you are riding the heels of someone else who is in the "best at" category, or you've uncovered that customer touches are your true "Profit per X." Most of our clients' first stab at a BHAG fall in the target oriented category (because it's usually the most obvious/easiest); so, let's work backwards to see if the others first meet your needs.
Internal Transformation may be right for you if you answer "YES" to these questions:
Are you a large, already established organization?
Are you looking to potentially re-define who you are?
Do you have an untapped passion you wish to move towards?
Role Model may be right for you if you answer "YES" to these questions:
Is there a non-competing organization out there you feel instills traits or successes you wish to emulate in order to fulfill your passion or be named "best at"?
Is there a well-known organization already succeeding in the same Profit per X you've identified that inspires you?
Would this organization be easily recognized by your team and instill excitement?
Competitive may be right for you if you answer "YES" to these questions:
Are you clawing your way up to becoming number one in your industry?
Are you competing for the same customers as the number one seat today?
Target Oriented may be right for if you answer "YES" to these questions:
Have you answered NO to all the questions thus far? (OK, that was an obvious question.)
Do you have a vision (new passion, new profit per X, market you can dominate, etc.) on what the next level for your organization should be?
Do you have a quantitative or qualitative target that will both inspire your team (financials don't always "wow" the masses) and withstand the test of time?
Regardless of which category you and your Hedgehog decided upon, remember to make sure you are not basing your decision on what seems most doable and therefore, defeating the purpose of the "A" (Audacious) in BHAG. A true BHAG will stretch you and becoming a unifying focal point of effort to increase team spirit and help you reach your long term goals. Now, go forth and write your BHAG!
Signed,
Your trusty, hairy Hedgehog
Looking for some more information on BHAG to help get you started? Check out our additional Big Hairy Audacious Goal resources:
How To Create Your BHAG: 3 steps to create your BHAG.
What Drives Your Financial Engine? Profit/X Examples
Does Your Company's BHAG Connect to Your Hedgehog?
How to Reach Your BHAG (Infographic)
Editor's note: This blog was originally published on Jan. 8, 2015, and has been updated.