At Rhythm Systems, one of our core values is Keep Smart; we are a team of voracious learners. But, it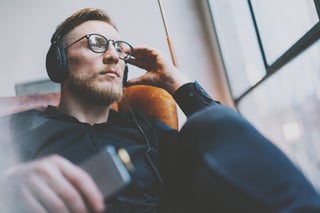 can be difficult to keep up with everything we want to learn, especially since there is so much great content out there for leaders to consume. I think it is safe to bet that I'm not the only one with good intentions and a "pile of guilt" (also known as the stack of business books I meant to read last year and never got around to.) It is nearly impossible to keep up with all the great articles and books promising to share the latest business growth hacks, reveal industry trends, and make you a better leader. In our crazy, busy days, sometimes we don't have time to read a blog post, much less a whole book.
If you are trying to grow your skills and stay informed in the new year, try listening to a few podcasts instead of staring down the "pile of guilt" for yet another year.
To get you started, here are 5 highly recommended podcasts for your listening pleasure:
The next time you are cooking dinner, folding laundry, working out, or on your commute, you can tackle your resolution to stay informed at the same time. And, if you do find yourself with the time to read a business book, consider picking up our new release, Predictable Results. You won't be disappointed!
Are there any podcasts you find especially helpful that are missing from my list? Please comment to share your favorites!
Photo Credit: iStock by Getty Images
Photo Credit: iStock by Getty Images