Have you ever wondered just what is going on in your business, how well things are going, and why? How can you know for sure that your people and teams are focused and aligned to achieve your long-term growth strategies and goals? How can you ensure you are doing the right things to attract the best talent and keep them happy in your company so they won't leave you? These are all questions that an Enterprise Work Execution Platform can help you answer.
An Enterprise Business Execution Platform will give you one integrated system across all teams for Strategy, Goal & Work Management; Work Collaboration & Socialization; KPI Tracking & Dashboards; and People Performance Management.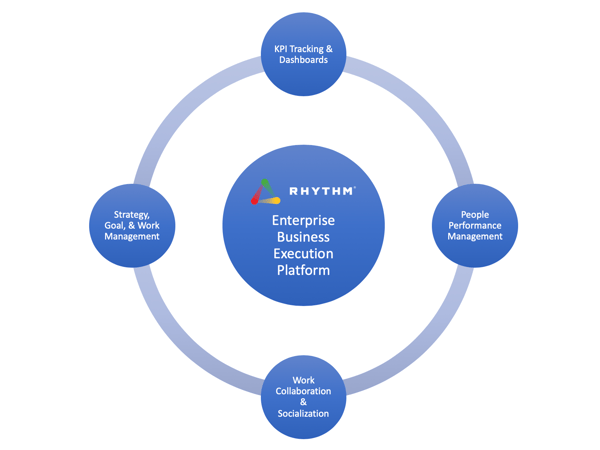 As companies grow, various departments adopt multiple systems to meet the day-to-day working needs of their people and teams. This all seems right and good at the time because the performance of the team is improved, but over time the ability to collaborate across teams to achieve large company initiatives becomes more and more difficult. This is due to the increased number of people in each team and the number of different systems used for work across various teams. An Enterprise Business Execution Platform like Rhythm enables you to record long-term company strategy and align the daily execution and work of your people and teams to it. Each team member aligns their daily work and growth goals to the growth goals for the company. This happens in a planning and execution rhythm that ensures goals are adjusted as needed to stay on-track to achieve success. Execution against projects and goals is collaborated and commented on daily. This speeds up your execution and increases the effectiveness of your work. Comments on projects and goals are made in the platform, reducing the load of your email inbox and keeping the communication in the direct context of the work being done. No need to search email or another external collaboration system like #Slack to find the communication you were looking for on a goal or project. One integrated enterprise platform improves your Return on Payroll dramatically by making your entire work-force more effective and efficient. They are now focused and aligned to achieve your long-term strategy for growth.
Your KPIs are the key metrics that help you see if your growth projects and daily work are producing the results you expected. Separating your KPIs from your growth projects by managing them in different systems make it very difficult and labor intensive to ensure all the energy and effort of your teams are producing the right results. Fancy charts produced by modern KPI tracking systems are nice, but how do your people know that the work they are doing every day is driving the results the company needs to succeed? Your staff often wonder if their daily work makes a difference. Rhythm enables team members to connect their daily work to the most important KPIs for the company so that they can know every day how the energy they expend on the job impacts the growth results of the business. That drives better performance from team members because they know the bigger purpose of their work and how it is helping the company succeed.
Connecting the work of your staff to the deeper purpose of your organization is vital. The best performers don't just show up to do a job, they work for a purpose. They want to understand the purpose, values, and long-term growth strategy for your company. They want to ensure that their own purpose, values, and long-term growth are aligned to that of the business so that both they and the business grow and succeed together. Rhythm provides integrated Job Scorecards, KPI tracking for individual growth, and work management for individuals and teams that all come together to help each team member understand how their personal growth and development plan aligns with and contributes to the growth of the company as a whole. Feedback and leadership accountability for daily work and growth goals are given in real-time and discussed weekly in team meetings. Adjustments are made in execution to keep team members moving towards success, thereby eliminating the need for intimidating and ineffective annual performance reviews that everyone dreads.
An Enterprise Business Execution Platform can help your business achieve growth and harmony in ways you never thought possible. Rhythm can make your wildest dreams as a CEO come true. :-)
Ready for more? Here are additional resources to read:
Departmental Silos: The Silent Killer
How CEOs Succeed—Achieve A Top Valuation Through Strategy Execution Software
The Team Accountability Assessment
How to Fix Your Weekly Team Meetings
Using Systems to Grow as Your Company Scales
What Are The Top 8 Challenges for Mid-Market Companies? Survey Says...
Company Alignment: The CEO's Roadmap to Organizational Alignment
Don't Confuse Strategic Thinking and Execution Planning
Download Free White Paper on How Mid-Market CEOs Confidently Execute Their Growth Strategies & Win
Photo Credit: iStock by Getty Images