I am very excited to share that I facilitated a webinar for the Association for Corporate Growth (ACG) in July,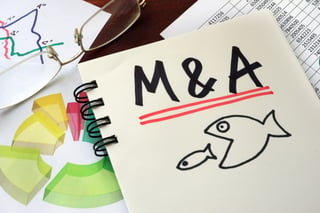 and we had over 500 people attend! I think this is the biggest audience I've ever had. ACG has over 14,500 members nationwide and provides training and content to their members throughout the year. I recently joined the Pittsburgh chapter and attended one of their events which encouraged me to join the organization as 150 people attended the event, and I met a lot of great people while learning during the scheduled presentation.
I am going to break down my presentation into a few blogs that you can read over the next couple of months. You can also watch the recording of the full webinar if you would like to hear it in its entirety.
The webinar is titled "3 Mistakes You Must Avoid to Integrate Your Acquisition Successfully," and during it, I go into the 3 primary differentiators our clients have found that make the difference between an acquisition that fails and one that succeeds.
50-90% of acquisitions fail to meet their objectives depending on what study you read.
The 3 differentiators to successfully acquire a business are:
Set expectations and eliminate the drama
Align the companies so that you have one team and one system to integrate and scale your acquisition
Avoid the cultural chaos that creates confusion and paralyzes the organization
Let's take a quick look at what you can do to set expectations and eliminate drama.
First, have a 1:1 in person discussion with the CEO of the acquired firm to set expectations for the next 4-6 months and tell the CEO this is part of your normal post-acquisition process.
Bring up the elephant in the room. Many CEOs of the acquired firm will take on a different role other than being the CEO such as heading up development or sales or products.
Don't underestimate how difficult this is for them to do. Often, these CEOs underestimate change management for themselves and possibly for their team. It is hard to let go. They have been doing this for a long time.
In preparation for this meeting, do a personality survey. It could be a Myers-Briggs, DISC, StrengthsFinder or another type of assessment to understand the person better.
Talk to folks who work with CEO and understand where he might struggle and where his strengths and weaknesses lie.
Think deeply about the KPIs and measurements associated with the transition and earn out if there is one.
Next, we need to create role & goal clarity, and we can do this by creating Job Scorecards. People do well when they know what they are responsible for and what success looks like.
Start with the CEO, then work with the executive team and repeat the process with the management team.
The basic components of the Job Scorecard help set clear expectations: job title, who the role reports to, desired results and KPIs to measure these results, key responsibilities of the role, skills & traits needed to be successful, and company core values.
AvidXchange, a client who has completed several successful acquisitions, shared that the most important information new team members want to know are:
Do I still have a job?
What is my role going to be in the future?
How are my benefits changing?
What am I responsible for?
What metrics do I own, and what is the success criteria for them?
How do I fit in long-term and what is the plan?
And lastly, define and communicate the structure for the newly integrated company. The structure may change to take advantage of new synergies.
Determine what functions are shared.
Eliminate redundancies.
Act quickly to make necessary changes and communicate plans to those that will continue with the company.
Develop a personal path of progress for team members so people know what their 90-day plan looks like.
Be as open and honest as you can be early on so that you don't lose key players and staff. And remember, adding new team members means you have a new team.
So, these are a few things you can do to set expectations and eliminate the drama.
We will look at how to align the companies so that you have one team and one system in the next post.
Good luck and scale well! Alan
Culture is Key to Breakthrough Execution with Mergers and Acquisitions
The Right KPIs to Prevent M&A Failure - Rhythm Systems
How to Acquire a Business Without the Drama
5 Steps to Integrate Your Culture After a Business Acquisition
3 Ways Top Middle Market Executives Make the Most of M&A
5 Integration Mistakes that Could Sink Your Business Acquisition
4 Ways to Prepare Your Employees for a Merger
Photo Credit: iStock by Getty Images
Photo Credit: iStock by Getty Images