After quarterly planning, you walk out with a clear idea of the big things you have to get done this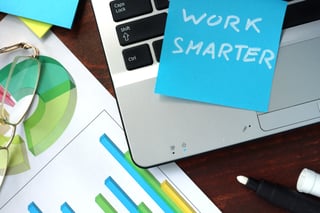 quarter. Knowing your top priorities is a powerful way to focus your energy for the quarter, but for these big items that will take all quarter, how can you maximize your productivity and ensure that you get these big priorities done successfully and on time? Take your execution to the next level by identifying the top 3-5 milestone Actions for each of your top priorities.
Actions are different from priorities because they are tasks; similar to your to-do list, you can just check them off as you complete them. Actions have 3 simple parts:
1. WHO is accountable for doing the work on this milestone
2. WHAT exactly needs to happen
3. by WHEN (the due date)
This sounds very basic. But, taking the time to map out your milestone Actions on a big priority can help you prevent problems down the road. Understanding who needs to do what by when will help you break your big priority down into manageable steps, help you visualize deadlines, and coordinate with all the others on your team who may be contributing to your priority. Your Actions list of milestones is also a great way to hold yourself accountable to what needs to be done and to help you with making an accurate forecast of whether you're Red, Yellow, or Green on a priority. If you have 5 overdue milestones, you probably should not status Green that week, for example.
If you use the calendar view in Rhythm 4.0, you can see if you have any weeks in the quarter when you might be overloaded with too many Actions. Knowing this in advance can help you move some milestones around, ask for extra help, or complete some early, so that you don't set yourself up for failure on your important priorities. Also, you can comment and collaborate with your team on Actions to ensure that everyone is on track to hit key milestones.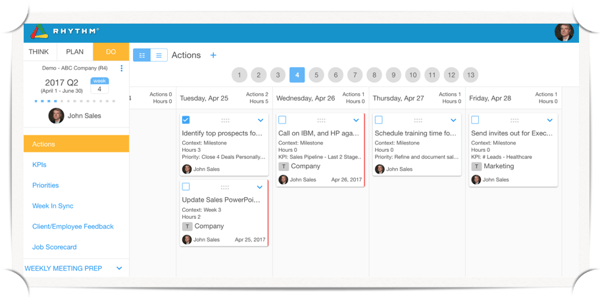 While Actions are a very powerful tool to manage milestones on important priorities, you can use them for just about anything in Rhythm. You can use them to move the needle on your KPIs, to advance your Winning Moves and Annual Initiatives, or keep track of your key preparation or follow up items on from Weekly Meetings, Planning Meetings or Other Meetings.
Each day, you can pull out the calendar view of your Actions in Rhythm and work your way down the list of items due that day to ensure that nothing slips through the cracks. Maximize your productivity by taking those key tasks out of your head (or sticky notes, whiteboards, or email) and putting them into your trusted system to ensure they get done.
Photo Credit: iStock by Getty Images
Photo Credit: iStock by Getty Images