Because Rhythm strategy execution software acts as a framework for pulling together into one single system many improvement initiatives and management tools that are popular among manufacturing companies, many of our most successful clients come from the manufacturing industry. One area that our clients come to us for help with is determining the right manufacturing KPIs (Key Performance Indicators) for their manufacturing metrics dashboard to drive performance. Some production managers are not sure where to start, and many are measuring so many things that their manufacturing metrics are just noise, not driving action or change to drive your operating efficiency and product planning KPIs and KRA (key results areas.)
Manufacturing KPI Examples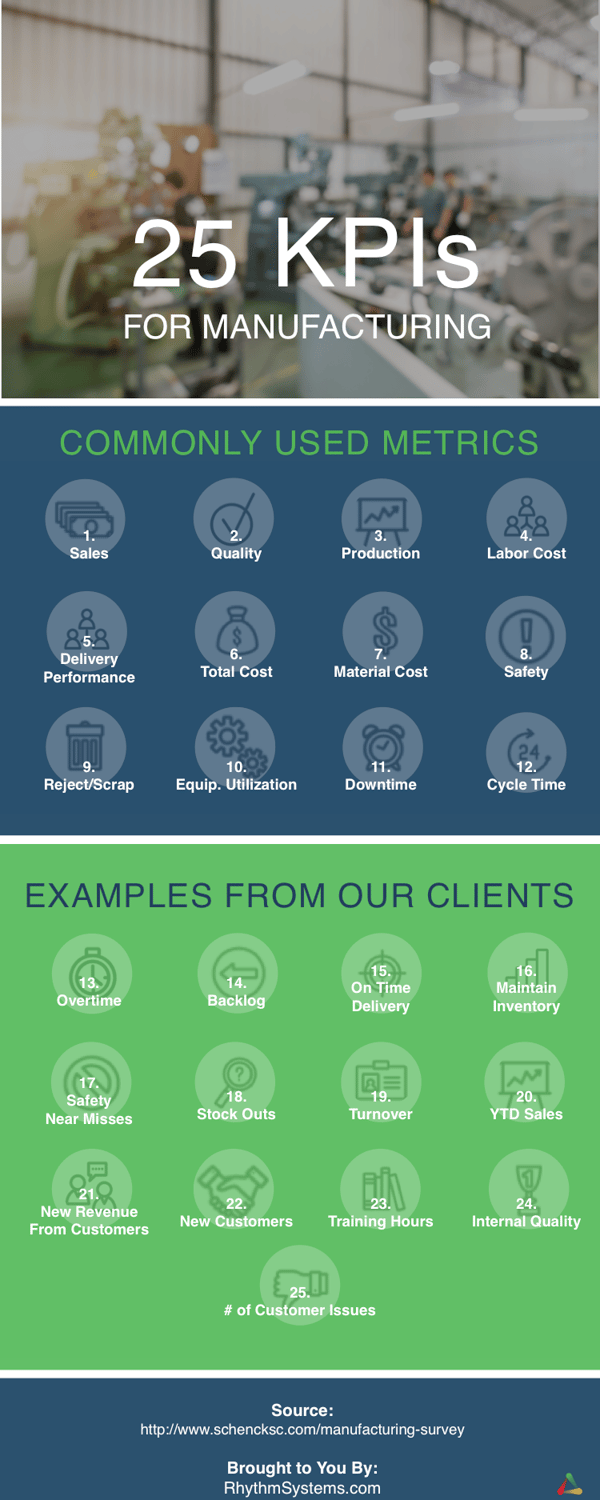 Download the 25 manufacturing KPI examples infographic.
These were the most commonly used metrics for companies in the Manufacturing Industry according to a survey conducted by Schenck and some specific KPIs that our clients are tracking on their manufacturing KPI dashboard, sometimes referred to as a KRA or Key Results Area to improve their production processes on the factory floor. You can also compare OKRs vs KPIs.
1. Sales
2. Quality
3. Production/output
4. Labor cost
5. Delivery performance
6. Total cost
7. Material cost
8. Safety
9. Reject/scrap
10. Equipment utilization
11. Downtime
12. Total cycle time
13. Overtime
14. Backlog, Open Orders
15. On Time Delivery KPI
16. Maintain Inventory Level
17. Safety Recordables, Near Misses
18. Stock outs
19. Turnover
20. YTD Sales, Invoiced sales, Sales vs. Budget
21. New Revenue from Existing Customers
22. Revenue from New Customers
23. Training hours
24. Internal Quality, DPPM
25. # of Customer Issues

While examples like the ones above can be helpful as you start thinking about the right manufacturing metrics, the key to the right manufacturing KPI dashboard for your company is not to start with someone else's list without thought. If you truly want to derive value from your manufacturing KPI dashboard, you have to start by thinking about the business results you want to drive with your metrics. Is it to better control the supply chain? Are you looking to increase your overall equipment effectiveness (OEE)? Do you need to control your raw materials industry? Take a hard look at the areas in which your factory floor can use the most help. Your KPI evaluation is important to understand the metrics that matter to your business so make sure that you get the most out of it.
Your Critical Numbers determined in your Annual Planning and Quarterly Planning sessions are a good place to start for KPIs to track weekly on your manufacturing KPI dashboard. Then, consider what other results you are trying to achieve this quarter. This will help you come up with a handful of results indicators. From there, think about what a leading indicator example KPI in manufacturing might be for each of your results indicators. The leading indicator should give you a picture of whether you are on track to hit your desired results or not. You need to have the right balance of metrics on your manufacturing dashboard software, of course we recommend Rhythm Systems Strategy Execution Software. Or, you can visit our comprehensive list of 183 KPIs to execute your balanced scorecard.
For example, if your results indicator for the quarter is "# of Customer Issues," you might hypothesize that "On Time Delivery" is a leading indicator KPI for this result. You can test for a quarter to see if Red "On Time Delivery" gives you a heads up that the "# of Customer Issues" will rise and also be Red. If this holds up after some testing, you might peel back the onion a layer further and determine that "Maintain Inventory Level" is a leading indicator KPI for "On Time Delivery." So, in this example, if you can keep the right inventory in stock to deliver on time, you will have fewer customer issues. Your production KPI dashboard can let you know early if you are heading for Red on customer issues so that you will have enough time to do something about it. Don't forget to check out our 21 KPI Examples to Improve Manufacturing Performance and 33 KPI Examples to Measure Productivity & Prevent Organizational Drag to fill out your manufacturing KPI dashboard. This can be the production metrics template that can be the first step in building your production metrics dashboard.
For more about how Rhythm can help your manufacturing company grow with purpose, check out our Rhythm for Manufacturing Guide to help determine which manufacturing KPIs are best for your production line to help you build a manufacturing KPI template with production KPI examples. In this guide, Chris Cosper, our Head of Consulting and former CEO of a manufacturing company, shares how Rhythm's Think-Plan-Do methodology can help you build stronger accountability into your company culture, develop growth strategies to drive revenue, and continuously improve everything.
Rhythm Systems helps mid-market companies accelerate growth through their suite of strategy & execution software products. See how Rhythm Systems software can help you execute your KPI strategy and all of your strategic initiatives.
Rhythm Systems KPI Resource Center for all you need to know about Key Performance Indicators. Looking for some KPI Examples to help get you started? Check out our additional KPI and KPI dashboard blog articles:
Comprehensive List of 179 KPI Examples for Any Industry
4 Steps to Create a Leading Indicator KPI
21 Production KPI Examples to Improve Manufacturing Performance
27 KPI Examples for the Staffing Industry
How top CEOs Close the Strategy Execution Gap
5 Simple Steps to Create Useful KPIs (Video)
5 Tips to create, evaluate and use Key Performance Indicators (KPIs) to drive results in your business
33 KPI Examples to Measure Productivity & Prevent Organizational Drag
Key Performance Indicators for Employees
Comprehensive Guide for KPI Evaluation
Editor's note: This blog was originally posted on Oct. 20, 2014 and has been updated.
Photo Credit: iStock by Getty Images