As I shared in a previous post, I am always looking for the next productivity hack. Going into this quarter, my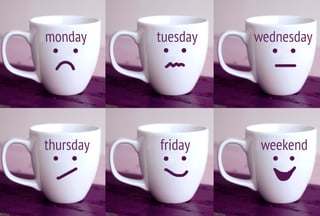 inbox was full of articles about setting and achieving goals and getting more done. Just as I secretly loved back to school as a child (fresh notebooks, highlighters, binders, organizers… maybe I just loved school supplies), I also love this time of year. It feels like we have a fresh start to instill new habits and become better, perhaps more productive versions of ourselves. In this spirit, I watched a couple of Skillshare classes on productivity over the holiday break.
While I gleaned some fun new tips, like setting a "theme" for each day of the week (Monday is for meetings, Tuesday is for administrative tasks, Sunday is for family, etc.), most of what I learned just reinforced what I already practice and got me thinking back to basics. Productivity is really about getting things done with intention and attention - as Ryan taught me in his conference session, about putting things out of your brain and into your trusted system so random thoughts about what you need to do don't distract you from what you're doing now.
In a nutshell, to have your most productive week, all you have to do is prepare.
Here's my back to basics checklist to help you prepare to have the best week possible:
☐ Set aside time at the end of the previous week or the beginning of the current week to having a "Meeting with Myself."
☐ During this time, start by reviewing your most important goals - if you use Rhythm, those are your KPIs and Priorities for the quarter. Evaluate how you are doing on those goals (we use Red-Yellow-Green status for this), and think through how you might get back on track for anything that's not going as well as it could be.
☐ Record Action Items on your goals. As you are reviewing your Priorities and KPIs and thinking about what you need to be working on this week to keep moving in the right direction, get those thoughts out and make them actionable by recording who will do what by when in your trusted system.
☐ Review all of your Action Items for the upcoming week. If you have any that are overdue, assign a new due date to commit to getting them done on a specific day. Adjust your Action Items if you see any days in this week when you have too many; don't set yourself up to fail. Move things around so that your plan for the week is realistic.
☐ Block off time on your calendar to do the work. I use Rhythm to manage my Action Items and my calendar to manage my time. For any Action Items I have coming up, I make sure there is a corresponding block on my calendar to get the work done. I like the satisfaction of checking it off the list, but unless I block the time to do it, I know it might not get done.
☐ Write a short statement that sets your intention for the week; "My week will be successful if…" This is the most important thing you have to get done this week; it gives you focus, and like the tip above to "theme" different days, setting a "theme" for the week will help you organize your brain around what's most important to get done.
☐ Pause to celebrate your success from last week. As you went through your Priorities and KPIs, you may have noticed some victories. It is important to reward yourself (even if it is just with a pat on the back) for a job well done.
☐ Write out your top priorities for the week. You've got your specific Action Items on your calendar and you've got your overall main focus to make your week successful. Now, step back and list the top 3-5 priorities; if other things get moved around and typical distractions crop up, these are the non-negotiable things that you will do this week.
☐ Share your progress on goals and your plan for your week (victories, priorities, and anything that has you stuck) with your team. Keep each other accountable and offer help to each other.

If you stick to the basics and do these simple steps every week, you will set yourself up for focused time to work on what's most important, which is productivity at its best.
Additional Rhythm Systems Productivity Resources:
How To Have Effective Weekly Staff Meetings (With Sample Agenda Template)
Download our weekly meeting agenda
Are You Having Weekly Meetings with Yourself?
Supercharge Your Meetings with This Effective Weekly Meeting Agenda
8 Ways to Make Weekly Meetings Strategic vs. Tactical (Video)
Consider using Rhythm Software to run your weekly meeting, where the status and agenda are automatically created every week to keep you on track!
Photo Credit: iStock by Getty Images