In recent consulting calls, Job Scorecards (sometimes referred to as employee scorecards) have been a hot topic. Many companies are looking for a way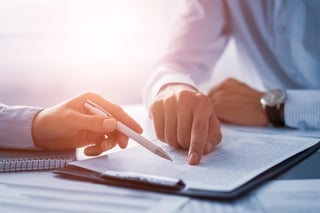 to provide more constant and balanced feedback and coaching to employees, instead of just an annual review.
The truth is, traditional annual performance reviews can be riddled with anxiety. Many times employees perceive a connection to salary or a raise, which is stressful for everyone. The true value of a performance review - an opportunity for development and coaching - is often missed.
As many of our clients embark on the Job Scorecard journey (see Job Scorecard Examples), the first hurdle is usually a mastery of terminology. I've found lots of confusion between a Job Description and Job Scorecard. Here's the skinny:
A Job Description is used externally for recruiting. It summarizes the role responsibilities and requirements of the job for potential candidates. It also outlines practical job details such as job location, full or part-time, travel requirements, education required, hourly or salary, commission or bonus, etc.
A Job Scorecard (employee scorecard) is used internally for interviewing candidates and coaching existing employees. The Scorecard sets expectations around KPIs and results expected. It also serves as the framework for managers and their direct reports to rate performance. It is a coaching document that helps identify opportunities for development and improvement. It can be used quarterly, annually, or whenever a manager needs to have a conversation about performance with a direct report.
Below are the key areas of the Job Scorecard Template:
Purpose of This Job:
Why this position exists. The overall and ultimate purpose within the organization.
Desired Results:
Visible and measurable evidence of success in this role. What KPIs is the person in this role responsible for delivering? What are the SMART Red-Yellow-Green success criteria for those KPIs?
Key Responsibilities:
Specific actions, tasks or areas of responsibility this role will oversee.
Skills, Traits & Competencies:
Specific skills, traits and competencies necessary to be successful in this role.
Living Our Core Values:
Behavior demonstrating an understanding of and alignment with the company's stated Core Values.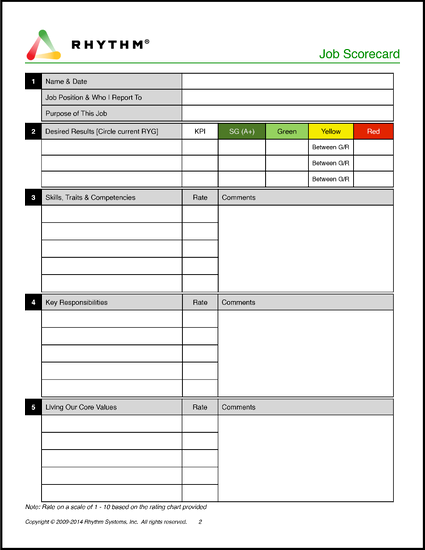 In using the Job Scorecard, the first step is to document each of these items for each role in the organization. Get input from the team and work on these together. Share Employee Scorecards with the entire team to promote role clarity throughout the company.
If the Job Scorecard is to be used in an interview with a potential candidate for that role, the topgrading Scorecard guides the interviewer's questions. Based on the candidate's responses, the interviewer can rank each item on a scale of 1-10. If multiple interviews are taking place, each interviewer can use the Job Scorecard in the same way. This allows the interview panel to compare their rankings. The hiring experts at Topgrading also recommend using a Job Scorecard rather than a vague Job Description. If you're hiring you should visit 10 tips for you to hire and retain talent using topgrading methodology.
If the Job Scorecard is to be used with a person currently serving in the role, both the employee and their manager should rank their performance against each of the items listed.
For example, a skill of a good salesperson is organization and detailed follow up. The salesperson in that role might think they are a 10, while their manager thinks they are a 7. This prompts a discussion and uncovers a coaching opportunity for that manager.
Implementing Job Scorecards in your organization isn't easy, but it is simple. It does involve a shift in mindset - especially if your organization is in the habit of doing annual reviews. The best place to start is with yourself. Fill out your own Job Scorecard and share with your team. Ask for their input and go from there. Careful, it's contagious!
If you're interested in increasing accountability in your organization with Job Scorecards, watch this fantastic webinar!
Looking for more information to help get you started? Check out our additional resources:
A Real-Life Job Scorecard Example [SlideShare]
Use Job Scorecards to Build Team Accountability
Don't Get Stuck on Your Job Scorecard
Use Your Core Values and Job Scorecards in Your Hiring Process
How to Roll Out Job Scorecards in Your Organization
The Staggering Cost of a Mis-Hire: Use Job Scorecards Instead
The 5 C's of Team Accountability
Why Traditional Performance Appraisals Might Be A Big Mistake (And What To Do Instead)
Use Topgrading and Job Scorecards Together to Attract and Retain A Players
Rhythm Systems Employee Engagement Resource Center
Photo Credit: iStock by Getty Images
Editor's Note: This blog was originally published on Nov 28, 2014, and has been updated.