In my last leadership problems post, I began exploring the question of how to help your people master the skill of problem-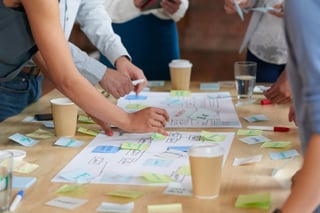 solving. While the ability to create their own solutions in real-time is a trait that leaders crave in their teams, often leaders fail to create environments where this kind of behavior can flourish. Meanwhile, most employees would like to have the opportunity to solve problems themselves. But, without the right conditions created by their leaders, they never practice the kind of strategic thinking that would lead to better problem-solving. Without practice, those skills can't grow.
You'll remember my three-fold question:
What should leaders be doing to help their people learn to think strategically?
What should leaders be doing to encourage their employees to solve their own problems?
Why does any of this really matter?
I addressed the first question in my last blog, and here are my quick tips for the last two.
Second: What should leaders be doing to encourage their employees to solve their own problems?
Work on your own approachability. If you look too busy to help, then people won't approach you. If people don't approach you, then you can't begin the journey of teaching them to solve problems in a strategic way. Make sure your persona is one that welcomes people to talk to you (otherwise, you won't have the opportunity to help them develop the skills needed to solve their own problems).
Create a safe environment. Fear is a funny thing. In your work environment, it might not be that you're truly someone to fear, but your actions (and reactions) to what people are doing and how they're doing it are crucial. Your people need to feel safe in taking that first step to solving their own day-to-day problems. How you react is paramount. If they do something less than desired (i.e., they solve a problem in the wrong way), then consider that a teachable moment. Ask questions. As Covey says, "Seek first to understand." And, ask yourself: What was my role in why this person made the decision he did?
Share insights and information. Don't be too busy to share information. And don't make assumptions that people know what you know. Talk to them; share where the company is headed strategically. Link what your people are doing today to the bigger picture. Embrace how a particular solution is a step toward in helping the company reach one of its Winning Moves. If you hoard information, people can't possibly make good decisions around solving problems.
Set boundaries. As you teach people to do their own problem-solving, be sure to set boundaries around when they should come to you for a conversation (and you can use the questioning approach I laid out in my last blog) and what kind of problems they might want to solve on their own.
Clarify how you want to be informed. Teaching people to solve their own problems isn't intended to create a vacuum. Don't apologize for needing to know what's going on. Therefore, clarify how you'd like to be kept informed. Do you want an email every Friday with bullet points? Do you want a report at each weekly team meeting? Should the person enter information weekly on your Rhythm Strategy Execution Software Dashboard? Do you want the person to set an appointment each week for a face-to-face update? How long? What should that update contain? Don't make people guess here; simply share with them how you'd best like to be informed.
Minimize your own interference. A leader's job is to be a resource for his/her people. Therefore, be a resource. Don't be a micro-manager.
Educate your people. Talk to your people like they're the professionals they are. Educate them on the competitive landscape, on business in general, what matters relative to staying competitive, etc. Lace your language with key business insights so they'll begin to learn to think from a business perspective.
Let your people educate you. And remember: They do the bulk of the day-to-day work. They're the ones on the front lines. Honor that by listening to what they say. Take the time to ask for their input and encourage them to talk to you. And this brings us back to #1 above: Be approachable.
Ask your people to have "Think Time" every day. At Rhythm Systems, we recommend that leaders schedule in "Think Time" at least weekly. If space isn't given on your calendar, then you won't do it. Encourage the same for your people. Ask them to have their own Think Rhythm where they reflect on what's going well, and why. What's not going well, and why? What might they do to help move what's not going well toward a better future state? If they did one thing differently, what would that be and why?
Challenge your own thinking. Some leaders really do think that their people don't have the ability to think strategically. "After all," as one leader once said to me, "that's why I'm here!" Well… I simply beg to differ on this one!
Finally: Why does any of this really matter?
It matters because…
Change is coming at all of us with little remorse. It's fast and furious and in all honesty, you don't have the time to solve every single problem all day long for every employee.
Being proactive beats being reactive every single time. The more reactive your team is, the less effective it is in such a fast-paced competitive landscape.
Speed is of the essence, but it's hard to be speedy if a ton of decisions require a bureaucracy of people to weigh on potential solutions.
People need to see the bigger picture. Holding yourself accountable as a leader to teach people how to think strategically to solve problems helps them see the company as a whole versus as individual parts (or silos).
And most importantly of all: Your people usually have the solution (or least a solution that can be edited and refined through meaningful conversation). You hired them because your interview process told you they were one of the best at what they do, so let them do it. Help them realize the autonomy they have to fully apply what they know.
Formula: Direct Job Skills + Strategic Thinking + Proactive Problem Solving + Great Leadership = an engaged workforce and ultimately, business success at multiple levels.
Want more information on Leadership and Team Accountability? Check out these additional resources:
The Power of Systems and People: Accountable Leaders and Teams
Take Our Team Accountability Assessment
Team Accountability Begins with Personal Accountability
How top CEOs Close the Strategy Execution Gap
Building Team Accountability: Job Scorecards
10 Signs of an Accountable Culture [Infographic]
Growing Team Accountability in Your Organization
Quick Tips for Building Accountability
5 Steps to Having an Accountability Discussion [Video]
Learn more about accountable leaders and teams.
Photo Credit: iStock by Getty Images