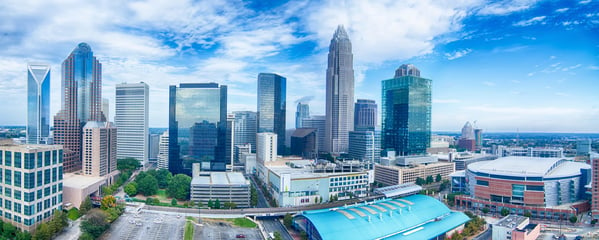 Thinking about coming to our 2016 Breakthrough Conference? Need another reason besides our awesome agenda to convince you? Here are the top 10 reasons you'll love visiting our home base - Charlotte, NC.
The NASCAR Hall of Fame
Charlotte is home to 90% of NASCAR teams and countless drivers. If you're a NASCAR fan and have time, be sure to check out the NASCAR Hall of Fame (a short 5-minute walk from the Hilton) or if you're looking for something different, there are several different NASCAR experiences around Charlotte. What better way to get pumped for the conference than flying around a racetrack at 160 mph!
The Carolina Panthers
The Carolina Panthers' stellar (15-1) 2015 season may have not had the ending we hoped for, but in 2016 we'll #KeepPounding. Whether or not the Panthers are playing, I'm sure fans we'll be out for Monday Night Football. Carolina Ale House and Duckworth's are both great spots Uptown to watch the game.
Prime Venue Location
The Hilton Charlotte Center City is literally in the center of it all! It's one block away from the EpiCenter, home to several restaurants, bars and entertainment.
Our Greenways and Trails
Mecklenburg County has one of the best greenway systems in the nation and currently has over 37 miles of trails. If you're a runner, Little Sugar Creek greenway is accessible from Uptown or you can run down the Rail Trail. If you prefer to work out indoors, your Hilton room key gets you free access to the Charlotte YMCA.
The Weather
October in Charlotte is beautiful. With average highs in the mid-seventies, you can still enjoy the outdoors. It doesn't rain a lot in the fall, but if there is rain, Charlotte has a ton of over-street walkways where you can escape the rain and walk from building to building.
Easy to Get Around
Uptown is pretty much a one-mile stretch. Charlotte is already a walkable city, but improvements over the past few years have made it even easier to get around. There's the Light Rail, which runs from South Charlotte to Uptown and the Gold Line Street Car, which runs East to West Uptown taking you from Time Warner Cable Arena to Elizabeth Ave., a cute neighborhood with some good restaurants. The best part about the streetcar - it's free!
Local Craft Beer
My husband and I moved to Charlotte a year and a half ago and were pleasantly surprised to discover the local brewery scene. Charlotte is home to 16 local breweries, with several more in the works. Birdsong's Jalapeño Pale Ale is a Rhythm Systems favorite. More distilleries are also starting to pop up, with Great Wagon Road being the pioneer. Many of the restaurants Uptown serve local beer on tap and carry local spirits.
An Emerging Food Scene
A number of new restaurants are opening in Uptown. I am most excited to try Essex Bar & Bistro, which is supposed to have a patio on the corner of Trade & Tryon (the busiest intersection Uptown.) Another recent addition contributing to the new food scene is Sea Level. If you like oysters, try the fried oyster taco or take a seat at the raw bar. However, there are still the good ole' classics like Bentley's On 27 and Alexander Michael's in Charlotte Historic Fourth Ward.
Southern Hospitality - Welcome to Charlotte, y'all!
No, you do not know that person waving at you. People here are just really friendly. Moving from DC, I was first confused by this, but now I find myself having 10-minute conversations with strangers while walking the dog and sneaking in the occasional "hey y'all" in my Northern Ohio accent.
Charlotte Douglas International Airport (CLT)
CLT is an American Airlines hub, so there are a ton of direct flights. Plus, it doesn't hurt to have award winning restaurants and bars like 1897 Market, which recently won Best New Food & Beverage Concept by Airports Council International and Whiskey River, which was recently ranked #1 Best Airport Bar by USA Today. The best part: from the airport, it's only a quick 15-minute drive to Uptown, which is around $15 for an UberX. So cheap! (Local tip: Uber is the way to go. Taxis charge a $25 flat rate.)
Photo Credit: iStock by Getty Images