Whenever I am onboarding a new client, I expect questions. I often hear, "what's the most important thing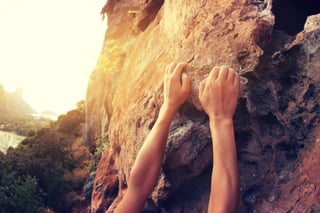 that we need to succeed?" So I was curious to find that as an author, speaker, and consultant, Jack Daly often hears similar questions. If anything, it seems to substantiate my belief that entrepreneurs and leaders want confirmation to avoid missteps. Quite simply, leaders and entrepreneurs feel the weight of each and every decision they make and live with the impact long-term. Jack asks a unique question in response - how bad do you want it?
Jack continues his thoughts below:
I asked this question of myself ever since I was a young boy. Today, I ask it of entrepreneurs and sales professionals on a regular basis. No matter where I visit in the world professionally, the question seems to be "what is the single most important ingredient for a salesperson to be successful?" My answer is one word – GRIT.
Angela Duckworth and her best-selling book GRIT: The Power of Passion and Perseverance summed it up as follows: "In sum, no matter the domain, the highly successful had a kind of ferocious determination that played out in two ways. First, these exemplars were unusually resilient and hardworking. Second, they knew in a very, very deep way what it was they wanted. They not only had the determination, they had direction. It was this combination of passion and perseverance that made high achievers special. In a word, they had grit."
On a run through London, standing in front of the statue of Winston Churchill, I recalled Churchill's all important 'never give in' speech. Nick Saban, the super successful football coach of the University of Alabama put it this way, "You see, it's not just about having the best players. It's about being relentless in the pursuit of your goal and resilience in the face of bad luck and adversity."
So how bad do you want it?
When I think back on my life, that word GRIT sure played a consistent role. Check it out. My first job, I was seven years old and I made and sold potholders. I took a real verbal beating from my friends (boys) that I was doing "girl" things. Hey, I was having fun and selling my potholders for twice what the girls were and making lots of money in the eyes of this seven-year-old! It just took a little GRIT to get through the verbal bashing.
At twelve years old, I took a newspaper route of 32 customers and a year later built it to 275. I broke several bike baskets trying to stuff too many papers in them and finally bought a unique bike built for home delivery of groceries. A large wheel on the back, a small wheel in the front, with a huge basket on the front. This worked great, however, it was a goofy looking bike and only came in the color purple! Again the verbal beatings came, and again I reached down and relied on GRIT to get me through. A year later, I was employing five kids to deliver papers and won Newspaper Boy of the Year honors. GRIT!
While those kids were delivering the papers, I took on a caddy job at our local private country club. The caddie master turned me down initially, laughing that the bags were bigger than me. I told him I would just hang around the caddy shack and wait for an opportunity. The other caddies tore into me as I spent days waiting for an opportunity that just wasn't coming. They said if it ever did, I wouldn't be able to "loop eighteen." Well, one day that opportunity came late in the day, and I was the only kid left to carry a bag. Not only did I make it around the course, but, the member requested me for his round the next day! It turned out that I befriended hundreds of members over the years and their advice significantly helped me in my future entrepreneurial pursuits. GRIT!
I (Barry) am grateful that Jack likes to help and teach others. I was struck by my similarity of experience with Jack. I, too, started as a potholder manufacturer and distributor at 8 years old in Greenville, SC. I made multiple designs, put my samples on a coat hanger, rode my bike around the neighborhood, knocked on doors, and made sales. Customers would look at samples, tell the color, design, and quantity that they'd want, and I would custom make and deliver the product within 3 days – of course, that meant a premium in value and price.
So when you ask what's the single most important ingredient to your success, I'm in agreement with Jack. It has to include grit. Grit will make you a premium value team member and ultimately magnify your success. Think about the times you've been challenged: what did you do? Now think about the obstacles in the way of current success. What will you do? Your answer will be in direct correlation to how bad you want it.
Photo Credit: iStock by Getty Images
Photo Credit: iStock by Getty Images