I know, I know; you've heard it all before! These are the top things to do to retain and attract talent and increase employee engagement in your organization (insert a number of excellent reads here)! I'm sure you've heard this many times and have read at least a few top-tier articles on managing employee engagement.
Workforce Engagement is Now a Primary Focus
In an ever-evolving workforce, engagement has been a primary focus of businesses over the last few years. The great resignation led to the great acceptance, and now we are fighting to keep our A-players. "Executives from around the world say that enhancing employee engagement is one of their top five global business strategies. Not only does engagement have the potential to significantly affect employee retention, productivity, and loyalty, it is also a key link to customer satisfaction, company reputation, and overall stakeholder value".
Enhancing employee engagement is a must, though it might surprise you to learn that engagement is more than employing tools to bolster performance. Employee engagement is rooted in your organization's core strategy. Managing it effectively begins with understanding your core values, how they tie into the company strategy, and how they are lived out and demonstrated by leadership.
What is Employee Engagement?
Gallup defines employee engagement as "the involvement and enthusiasm of employees in both their work and workplace." It is demonstrated in an individual's commitment and involvement, emotionally and cognitively, in their individual role within the organization. Despite pandemic tolls, employee engagement took its first major hit in nearly a decade in 2o21. According to a recent Gallup study, only 34% of all US employees are engaged at work. The study found "[o]rganizations have lost sight of the basics. Among the engagement elements Gallup measures, the greatest declines were in clarity of expectations, having the right materials and equipment, and the opportunity for workers to do what they do best. This disengagement extends to all groups although millennials, the largest cohort in the U.S. Workforce, are even less engaged than the average worker and most likely to quit."
If we don't get a handle on our culture and spend the necessary time examining and cultivating our core foundations, no amount of time off or hybrid work scenarios will save us. Caterpillar, a world leader in construction equipment, invested in employee engagement, resulting in $8.8 million in annual savings! They effectively decreased attrition and employee absenteeism and increased profits in a start-up plant by over $2 million while simultaneously achieving a 34% increase in highly satisfied customers.
Core Values: Give People a Reason to Invest In Their Work
When we are focused on our strategic initiatives, often, our core foundation takes a back seat. When engagement declines, it's easy to look for a quick fix, tip, or tool when we need to spend time developing our core values and giving our people reasons to invest in their work.
Core values drive behaviors. They support the company's vision, shape its culture, and are the essence of organizational identity. If we hope to address engagement, we must start by addressing who we are and defining our guiding principles. We must intentionally build a foundation that empowers individuals.
When people connect with a company's values, engagement comes naturally and can be more easily re-engaged when it ebbs and flows. Employees that connect to company values are more committed to their work, able to make decisions in alignment with those values, and find purpose in their roles. If you need help cultivating this fundamental strategy development, let us know, we'd love to support you!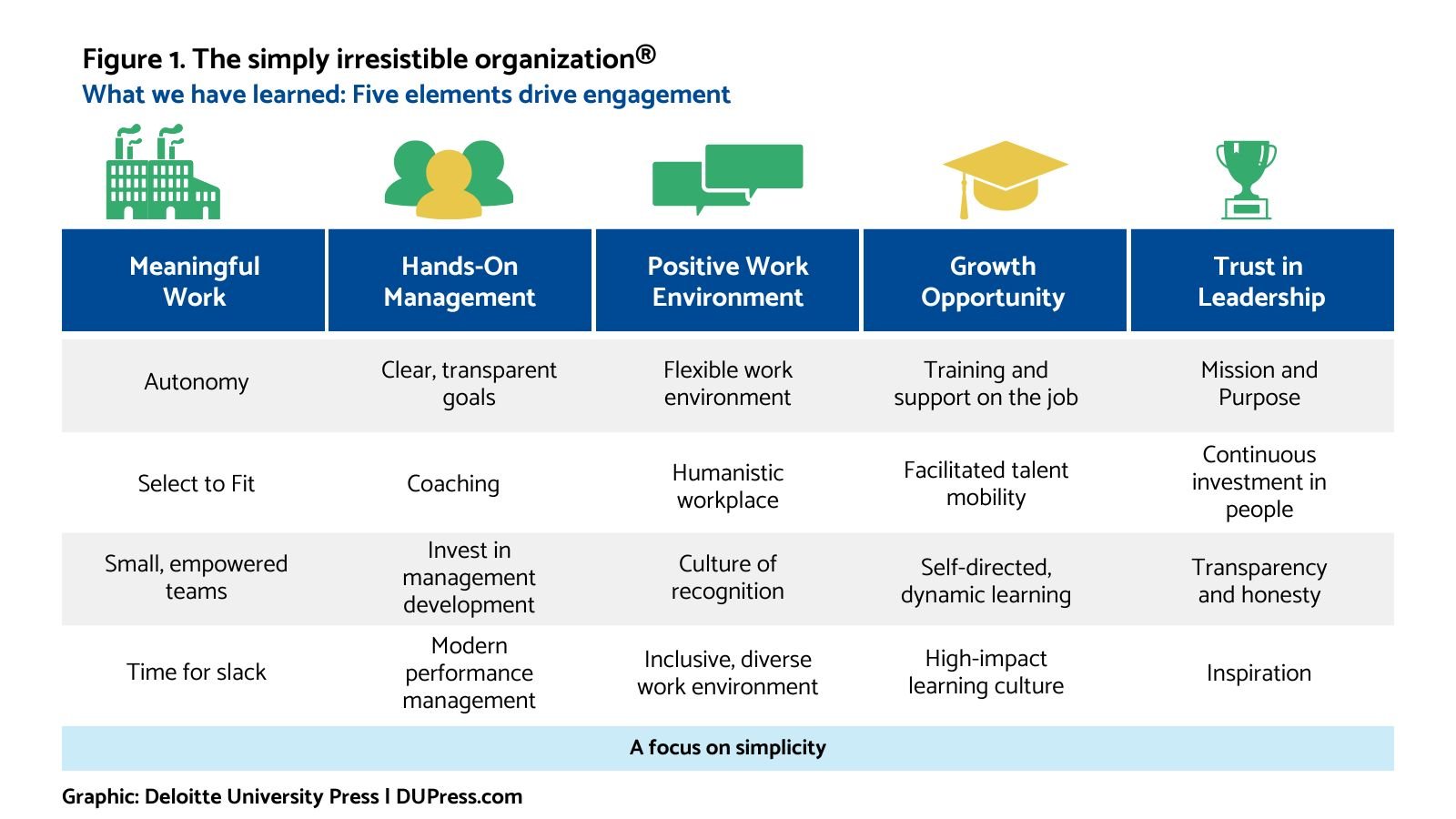 For more resources, check out SHRM FOUNDATION'S Employee Engagement and Commitment Guide.
Need help developing your core strategy? Learn more about strategy coaching for your business.
Photo Credit: iStock by Getty Images